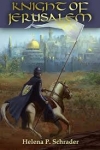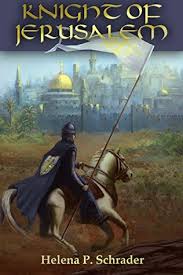 Publisher: Wheatmark (2014)
Buy the book now at:

Amazon
Author's Website
Knight of Jerusalem by Helena P. Schrader is the first in a trilogy of three biographical novels about the crusader Balian d'Ibelin. It is a story brimming with adventure and court intrigue. Set in the Holy Land after the Christians have won it in the first crusade (12th c.), Schrader's novel covers a period of history not often visited in fiction.
Balian was portrayed by Orlando Bloom in the Ridley Scott directed Kingdom of Heaven, but Schrader thought the real story was far more fascinating—the third son of an affluent man in Jerusalem, Balian inherited nothing yet somehow managed to rise to prominence and marry into the royal family. And it is.
Schrader's novel opens as Balian's much older brother, Hugh, dies after falling from his horse. Hugh has raised Balian, and with his last breaths he tells him to go to the court at Jerusalem to make himself, because the king owes him a favor. Once he arrives at court, Balian is offered a position as a riding tutor to the king's son Baldwin, who has leprosy. The assignment may very well be a death sentence, but Balian cannot in good faith turn it down. Indeed, in Jerusalem, leprosy is considered a mark of holiness, a sign that one has been touched by God.
Balian provides faithful service to his courageous pupil and prince, whom he admires for his heroic perseverance, but he still yearns for adventure and to make his own mark. However, Balian is ostracized due to his close contact with the leper prince; he is an outsider at court. The only woman who will approach him is Maria Zoe Comnena, Baldwin's beautiful young stepmother. This is when Schrader brings a fresh new perspective to this period of history with an unvarnished view that she deftly weaves into the subtext of the novel—a woman's perspective of the subjugation and fettering of females that permeated the medieval times. The author is a scholar of this era and has earned her PhD. in History from the University of Hamburg.
Intrigue and politics of the court ensue when the king dies suddenly. Balian finds his role at court becoming more vital, as Prince Baldwin takes the throne. When he finally reaches his majority and can cast aside his regent, Baldwin rewards Balian with the position of Constable of Ascalon, a prestigious but dangerous appointment that will require diplomatic skill as well as military prowess.
As Balian must keep Salah-ad-Din's forces away from his holdings, the story picks up speed, focusing on military battles and the budding romance between Balian and Maria Zoe, a woman he believes too far above his station to marry. The battle scenes ring vividly of scimitars, clashes of sword upon sword, of armored horsemen and horses charging at each other, and the brutality of combat.
Before this, much of the novel's action is summarized instead of immediate, as Schrader deftly covers a long period of time to get Balian to his position of influence and power. Readers will be awarded for their patience though. Aficionados of historical fiction will be pleased with the details that Schrader brings to Knight of Jerusalem making it a jewel to add their favorite reads.
Schrader is clearly knowledgeable about the time period and ably weaves a portrait of an oft-overlooked figure from history. Her time spent in the Middle East as a diplomat shows in her striking descriptions of places and structures, mores and customs. While she adheres ferociously to historical accuracy of the times, Schrader finds balance with the narrative to keep the reader entertained—no small feat.
The author brings romance, chivalry, the fury of battles, and the turbulence of the time vividly to life as she lays the ground work for the next two volumes that we hope will indulge us more about the fascinating Balian and his exciting true adventures in this little known time of great upheaval where East meets West and the future of today's world is shaped.
The Knight of Jerusalem earned the CHAUCER Awards High Middle Ages First Place Award 2014.