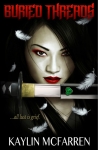 Publisher: Creative Edge Publishing (2013)
Buy the book now at:

Amazon
Author's Website
From the alluring book cover depicting a Japanese woman holding a beautiful sword, to the twisty, explosive ending, Kaylin McFarren's second novel in the Threads series, Buried Threads, takes you on an wild ride that will having you reading long into the night.
Treasure hunters Rachel Lyons and Chase Cohen, first introduced in Severed Threads, return in this novel, racing against time and overwhelming odds to recover a long-lost Japanese treasure. The Buddhist monk Satoru Yamada, or Shinzo, has hired them to locate a valuable Templar stone embedded in the scabbard of a sword at the bottom of the ocean. The sword is one of three, robbed from the tomb of a prince. Rachel's employer believes that its return will save the soul of the woman who originally robbed the tomb, and also prevent a catastrophic natural disaster that could kill millions.
Fearlessly combining the influence of Japanese Manga with elements of romance, suspense, paranormal, and action-adventure, McFarren provides a fast-paced, scary, yet addictive reading experience. The author doesn't mind bending the rules of craft or genre to present a complex, multi-layered story about fascinating characters—the beautiful yet numb geisha, the obsessed, vengeful Yakuza killer, the Buddhist monk who claims to see into both the future and the past, and of course, the intelligent and talented heroine, troubled by personal insecurities yet strong enough to expertly brandish a sword. As McFarren introduces you to each of these people against the backdrop of modern and ancient Japanese culture, you become hooked, soon kept in thrall of their unfolding stories and fearful of who will still be alive at the end.
Buried Threads interweaves cross-genre these plot elements in a tale that nevertheless accurately depicts Japanese subcultures. McFarren obviously has done her research on this exotic setting, enriching each page with details of Japanese urban nightlife, modern feminist attitudes, as well as the mindset of a centuries-old warrior culture. Readers who love to learn about foreign locales will enjoy this aspect of the book.
Because the author takes you so deeply inside the minds of multiple characters that are central to the plot, the back-and-forth among their points of view can at first be distracting. Typically, this would make it harder to connect with the characters. But McFarren draws intricate pictures of multi-faceted people, revealing their strengths as well as their fears and anxieties, so that you feel you know them instantly. The plot complications come fast and furiously, and you meet the large cast of characters quickly enough that you must pay close attention. This reviewer's advice, though, is to be patient. Before you realize it, you'll be well and truly immersed in this complex, edge-of-the-seat thriller.
Buried Threads was awarded a CLUE Award for Steamy/Action Thriller, a division of the Chanticleer Reviews Internationals Novel Writing Competitions.