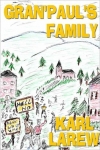 Publisher: CreateSpace (2009)
Buy the book now at:

Amazon
Gran'paul's Family, the third volume of Karl Larew's trilogy of the life of Paul Van Vliet and his family, as well as the wars he fought in as a member of the U.S. Army, is true to its title. While the first two volumes introduced readers to his family, we were often following Paul's experiences in WWII and the Korean War.
Part III, however, allows us to join the family circle, which grows considerably, as families usually do. Many of their experiences are similar to those of most of us, but some are quite unique, especially the musical careers of Paul's wife Betty and her daughter Rosalie, and the military intelligence exploits of Paul's nephew Ted Lauterbaugh (whose mother Dottie is Paul's sister).
I must describe Larew's work as a fictional family biography–one that is variously romantic, exciting, cozy and warm, hurtful and cold, tragic and sad, but mostly always interesting although there are always a few plodding times that as a member you just have to get through. Remember, like actual biographies, this fictional one doesn't have a plot but is a story that weaves together the characters and events.
The story begins with Ted Lauterbaugh reminiscing about meeting his cousin (by marriage), Rosalie, when they were both 14. He immediately fell in love with this beautiful girl with the satiny red hair–who played the violin, accompanied by her mother, on Christmas Day. Just as happens for most 14-year-olds, their relationship dwindled, in their case, to that of cousins, exchanging Christmas cards at best.
The novel is a written kaleidoscope of personal connections that span time and datelines across the globe. Paul's own son Danny, who refuses to be drafted or leave the country, must deal with his family's military history and find his own way. His protesting against the Viet Nam conflict creates estrangement within the family. Danny becomes the embodiment of the intersecting point of the fracturing that many families faced during this time of upheaval.
Spying, philandering, homosexuality in a time of appalling repression, NSA sleuthing, the Viet Nam conflict and the 60s protests against it, the Civil Rights movement, Soviet espionage, and the ushering in of psychiatric sessions for those seeking help and happiness with many more story threads of the "Paul" family. Will the family be able to withstand the strains and stresses that the turbulent Sixties force upon them?
This reviewer isn't going to give away any more of this remarkable story. You know these people now—their character, their strength. You'll want to find out how their lives evolve from this point. It is an evolution—with oldsters passing on and youngsters assuming family roles. Karl Larew has an important story for almost anyone to read–to learn and to enjoy.
Gran'Paul's Family  is preceded by two other compelling volumes that some may find to be faster paced reads:  Paul, Betty and Pearl (that's Pearl Harbor and WWII) and  Daddypaul and the Yo-Yo War (the Korean War).