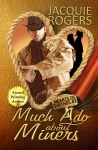 Publisher: Camp Rogers Press (2015)
Buy the book now at:

Amazon
Author's Website
What happens when a handsome gun-slinging cowboy, tries to stop a bank robbery only to get shot by the one and only Miss Iris Gardner, the farsighted, bespectacled bank teller with a loaded peacemaker, and the president of her local suffragist branch. Kade McKinnon, overhears her name as he fades in and out of consciousness. If memory serves him, it belongs to the most ornery, rambunctious girl to ever cross Kade's path during his younger days.
But Iris is no longer a young girl; she has developed into a hot blooded, intelligent, and beautiful woman. And unbeknownst to Iris, she has caught the attention of the most well-known gunslinger-for-hire in the West, by trying to blow his head off. It isn't the first time Iris has shot a man.
Iris is by far the most independent woman you will meet in all the territory. She is a woman with a plan, and there is no man around that can steer her off her path. She believes that there is more for her than "cleaning and breeding." She, along with several other suffragists in Silver City, Idaho, created a mining investment company that is sure to set them all on the path for financial independence. All seems to be going according to plan until Kade, the older boy she used to have a crush on, rides into town and she shoots him.
Kade is a gunslinger, a "for hire" true rough and tough man of the West. He lives for the adventure and loves life on the trail. He has made it plain that he is not going to get tied down by a wife. He is in town to get the job he was hired to do done, and then it is back on the trail to his next paid adventure.  And there's nothing that will change his mind. As much as he is attracted to Iris, he knows that he is not the settling down type of man. So Kade tries to keep his mind on his work and off from her fine figure and blonde tresses.
Hilarity, adventure, mistaken identities, and romance make Much Ado about Miners by Jacquie Rogers a hit for anyone who has a penchant for classic Westerns and Shakespearean comedies. She lassos the genres together in a most enjoyable way making this tale a true pleasure to read. From saddles sores and thorns from the trail, to finally being able to breathe when the last binding on the corset is released, even the most die hard Western readers will be impressed with Roger's knowledge and expertise she portrays as she takes you back in time to Silver City.
Rogers' delightful characters bring their own distinct flavor to Much Ado About Miners: the Shakespeare quoting sidekick, Phineas; a trouble-making scraggly yellow feline named "Duke;" dastardly despicable bad guys; and others. Her scenes had me laughing so hard at times, I was  in tears! This entertaining tale will have you rooting for the good guys while hanging on for a wild and fun ride that starts on the first page and doesn't let up to the very end. And, trust me, you'll never think about biscuits in the same way again.
I was caught hook, line and sinker in this heartwarming, romantic tale of the old West with its unforgettable characters and delightful surprises. There are three more rollicking adventures in the Hearts of Owyhee series by Jacquie Rogers waiting to be enjoyed. What are you waiting for?