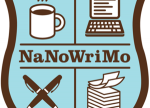 The CBR Raw NaNoWriMo 2014 writing competition is to discover originality of story concept and raw story-telling ability from unedited manuscript drafts from those who earned a NaNoWriMo certificate for completing at least 50,000 words in November.
The following manuscripts were found compelling and have advanced forward into the Raw NaNoWriMo 2014 Finalist positions:
Memory Bengesa for The Sameness Life of Nandi Broken
Kristine E. Brickey for They Said She Was Crazy
Sean Curley for Over
Laila Dawning for Caged Inside
Donna Degna for Donna Degna in Italy
Laurie Fitzpatrick for Niello
Parris Garland for My Name Is Not Daisy
Richard E. Gower for Death Comes Full Circle
Anja Jones for Love You Like a Brother
Joshua Nathanial Kaukl for A Here After
V. Lakshman for Mythborn 2: Bane of the Warforged
Rebecca Nolen for Token
Vanessa Russell for The Pure
Matthew Spangler for Villainous Jupiter
R. E. Steedman for The Phantasmagorical Theatre of Crespin Varlot
Kenneth Stokes for Return to Villa Serena
These Finalists will compete for THE BEST NaNoWriMo 2014 Entry and for 1st Place Genre Winner positions upon receiving proof of their NaNoWriMo 2014 certifications.
The Best RAW NaNoWriMo 2014 entry will receive a CBR Manuscript Evaluation ($395).
1st Place Genre Winning entries will receive a complimentary CBR related novel writing contest entry gift certificate ($45 value) along with a Great Beginnings entry gift certificate ($15 value).  Certificates are valid until March 2017.
Winners will be announced before May 30, 2015.
Authors/Publishers maintain all rights to their works submitted to the RAW NaNoWriMo contest. Simple.
RAW NaNoWriMo 2015 Info
We will begin accepting entries for RAW NaNoWriMo 2015 on December 1st, 2015 until January 31st, 2016 or until the limit of entries is met. You will be asked to upload the digital file of your manuscript upon entry.
The RAW NaNoWriMo Writing Competition is a division of Chanticleer Writing Competitions, L.L.C.
Image courtesy of National Novel Writing Month.  Please click here to be taken to the OFFICIAL NaNoWriMo organization's website.
NaNoWriMo Facts and Stats
National Novel Writing Month was established in 1999. It is also a 501(c)(3) nonprofit that believes stories matter.