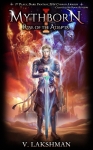 Publisher: V. Lakshman (2014)
Buy the book now at:

Amazon
Author's Website
A classically high-fantasy styled novel that is a satisfying layered read full of battles and skirmishes, mages and wizards, dwarves and elves, dragons and royalty, and its own complex lore and magical systems, V. Lakshman's Mythborn: Rise of the Adepts will leave dark fantasy enthusiasts clamoring for more.
After a powerful mage allowed a demon named Lilyth to enter the world of EDYN, causing a devastating war, King Galadine declares that all those with magical talent be put to death. For over two hundred years, mages have been hunted down and killed, except for a select few that escape and train to be adepts under the tutelage of the mage council.
Forced to keep themselves hidden, even the most powerful mages have lost the deepest knowledge of their craft, and their abilities are only a shadow of what the generations before were capable of. When it seems as though the demon Lilyth has begun to stir again, the council is ruthlessly determined to act.
Arek Winterthorn is an apprentice with a power that even he himself doesn't understand. Unable to produce even the simplest of spells, he can disrupt the magic of others with a single touch. When his master, Silbane Petracles reluctantly agrees that Arek's abilities might be the only way to save the world, the two embark on a journey full of twists, violence, intrigue, and even a dragon.
They seek the kingdom of Bara'cor, where the current King Galadine is under siege by a barbarian horde. Inside the castle walls, we are introduced to his court and advisers, including his teenage son and young niece, next in line to the throne of the neighboring kingdom. All of these diverse threads weave together as the characters clash, attempting to discover the true nature of the demonkind and the heart of the conflict two centuries ago.
Lakshman's epic is told in several diverse voices from every side of the conflict, creating a complex web of loyalties and motivations. This leads to some initial confusion, as the reader is introduced to several different point of view characters in rapid succession. Flashbacks, integrated into the narrative under the heading "Histories," are at first difficult to distinguish from the novel's present day events. But after the narration settles into a pattern, fans of fantasy will be engrossed in his world and the envelopment of its familiar tropes. As the multi-faceted characters and their motivations are revealed, readers will come to care about what happens to them as they come to understand what motivates them.
Lakshman's experience in the game industry and his martial arts background are evident in the novel's many detailed battle scenes in this fast-action and complex fantasy. The Rise of the Adepts' cliffhanger ending will leave readers clamoring for the next volume in this fast-paced and suspenseful Mythborn series, the sequel to which is now available.
First Place Dark Fantasy, 2014 CYGNUS Awards for SciFi and Fantasy Fiction, a division of Chanticleer International Writing Competitions.