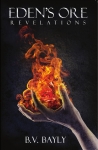 Publisher: Promontory Press (2015)
Buy the book now at:

Amazon
Author's Website
An action-packed, dystopian science fiction series, describing a near-future, energy-starved world saved by the discovery of a crystalline ore with powerful properties. Creating the perfect Eden, however, comes with unexpected and dangerous consequences!
B.V. Bayly has crafted an action-packed story full of mystery and suspense in a near-future, dystopian world. The author has presented an intriguing premise in which an Eden-like Utopian civilization has been created by using an all-powerful ore that replaces depleted energy reserves. However, Eden is an oasis on a planet where many of its inhabitants exist in brutal and barbaric times; human life has little value and savagery runs rampant.
The core of Eden's government is the Church of Humanity. The Patriarchs, the Church's leadership, are under increasing pressure from several outside factions who are actively trying to tear apart or infiltrate them. One of the strongest and most dangerous factions is the corrupt and insanely violent Horsemen.
As Revelations – Book 2 in the series – begins, Commander Nate Reinhart of The Church of Humanity must come to terms with his own guilt over watching one of his best men, Gabriel, the hero from Book 1, get caught in one the largest explosions the commander has ever witnessed.  The explosion happened at a weapons facility while Gabriel attempted to detonate a shard of black ore.
Now, Nate puts his entire team at risk of attack from the enemy to rescue Gabriel. When they extract Gabriel from the crater caused by the blast, it is still underdetermined if he is alive or dead. As Nate's team takes Gabriel into the forest for cover, they come upon the remnants of a second team of wounded soldiers who had been stationed outside the weapons facility. One of the few remaining soldiers reveals to Nate that they've been attacked by two squads from their own platoon. Soldiers in their own ranks may have betrayed them, becoming their most dangerous enemies.
Given Nate's growing misgivings from his own dealings with the Church, he must now face the fact that he no longer has any confidence in the Church leaders and suspects that their motives aren't to be trusted. Gabriel may be in mortal danger and unable to protect himself in his current, comatose state. Nate decides to let the Church leaders believe that Gabriel is dead, turning to his most trusted allies for help in healing and protecting the young man.
As events continue to unfold, Nate realizes that The Horsemen have succeeded in spreading their corruption, infiltrating the leaders of the Church and weakening the Patriarchs. As he waits for Gabriel to awaken, Nate must choose whom he can trust as he battles against the forces of good and evil. Only the Spheres, with their secret sanctuaries and strong desire for independence, can offer an alliance with Nate in this battle for the hearts and souls of humankind. Nate must lead his team into the bowels of the dark and uncivilized zones to find the source of the Horsemen's power.
Readers will be drawn into the Eden's Ore series with its engaging characters, complex relationships, nonstop action, and its strange dystopian world with interesting and powerful new twists.
Reviewer's Note: Reading Eden's Ore: Revelations is like traveling back to a futuristic world to visit old friends and make new ones. I recommend that readers begin with Eden's Ore: Secrets, the first in this compelling top shelf series, and have Book Two close at hand for immediate immersion into the sequel.