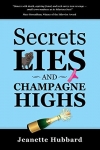 Publisher: Promontory Press (2015)
Buy the book now at:

Amazon
Author's Website
Jeanette Hubbard's Secrets, Lies, and Champagne Highs is a chick-lit quirky drama set in Oregon with crazy characters galore, an abundance of twists, and non-stop hi-jinks.
Claudie O'Brien is interrupted while attempting to commit suicide with champagne and pills by the side of a river. Peter, who has taken to driving a tow-truck after being laid off from his job as a vice principal, finds her while camping with his friends. Meanwhile, Peter's wife Chrystal yearns for a more elegant life. A floundering real estate agent, she now works as a hostess at a restaurant, resents her stepdaughter's lack of interest in fashion, and has embarked on an affair with a quack doctor.
Peter and Chrystal have just finished converting their garage apartment for his aunt when she dies suddenly. In order to receive the appropriate rezoning permits, they must find someone to establish residency there. Chrystal finds Claudie in the hospital and convinces her to pose as the aunt and live in the apartment for a year. Claudie, who figures she has nothing better to do and could use a distraction, agrees.
Add in a deadbeat son cooking meth in a barn, a woman coming out of a month-long coma, an out of work English professor fired for seducing a teenager, secret identities, and an accidental death, and you have a recipe for nonstop hi-jinks.
Claudie rediscovers a reason for living as she helps Peter's children learn to cook and discover the truth about their stepmother. A subplot involving the proposed building of a spiritual retreat and miracle cures is amusing and timely.
A polished writer, Hubbard weaves the multiple plot threads together deftly. This reviewer would like to see a more central focus on one or two of the characters instead of an ever-revolving cast of protagonists, which makes it hard for the reader to root for a favorite. The novel's ending quickly ties up the threads of the many ongoing dramas and mysteries, but feels abrupt after so much build up. Overall, Secrets, Lies, and Champagne Highs is a fast-paced small town mystery with interesting characters that ends before it has really begun to explore the complex web of crimes and connections Hubbard sets up, which may be a prelude for a series. Nevertheless, fans of the chick-lit genre along with those who enjoy quirky dramas will enjoy escaping to Oregon and will be satisfied by Hubbard's skillful writing craft. We look forward to enjoying more of Claudie O'Brien's escapades.
The Secrets, Lies, and Champagne High's strong development of its Oregon setting helps create a world of quirky people and familiar locations. Hubbard's novel has a multitude of characters and twists that will keep readers turning the pages.