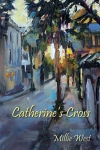 Publisher: Boutique of Quality Books (2013)
Buy the book now at:

Amazon
Author's Website
Mystery, romance, and the hunt for a long-lost artifact make Millie West's second novel that is set in the South Carolina Low Country, an engrossing read.
Writing in a leisurely pace echoing that of the novel's southern setting, West begins her story with Jenks Ellington who, while watering ferns at her house in North Carolina one afternoon, experiences the moment of her twin sister's drowning miles away in South Carolina. Gigi, a strong swimmer and experienced diver, disappeared while diving with her partner Frank Hillier in an area the two had been salvaging for artifacts.
Jenks, who has always had a deep connection with her twin sister, can't believe that Gigi's death was accidental.
The detective on the case, the handsome Seth Mason, is equally suspicious. The initial investigation finds nothing wrong with Gigi's diving equipment, and the autopsy reveals that she had no drugs or alcohol in her blood stream. Mason also finds it suspicious that Frank Hillier, an experienced ex-Navy diver, has no explanation for why he lost track of Gigi during the dive.
Almost immediately following the funeral, Jenks begins to have disturbing and inexplicable dreams about a woman wearing a golden cross.  As Jenks begins to follow clues left behind by her twin, she finds herself drawn ever deeper into the history of the area and its inhabitants.
She discovers that Gigi had been in touch with Miss Meta, a local spiritual advisor, and that Gigi had been reading the old spiritualist's family diaries. Those diaries mention a gold cross exactly like the one in Jenks' dreams. Is her sister trying to communicate with her from the afterlife?
Each page of this romantic thriller is imbued with the natural beauty of the Carolina Low Country, its people, and its culture. Ms. West weaves its rich and intriguing history, along with the region's distinctive manners and idiosyncrasies into her work.  Readers (non-Southerners will need to remind themselves that they are immersed into the pacing of a good Southern tale) will find themselves unable to put down this intriguing southern mystery.