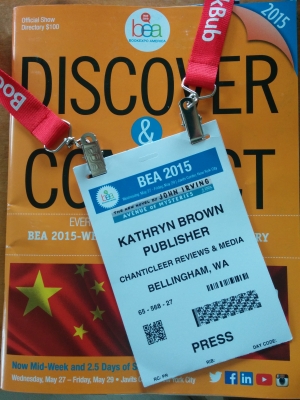 After returning from Book Expo of America 2015, I received many emails and texts from friends and colleagues asking me: "How was BEA?" or "Did you discover anything useful?" or "What was the buzz at BEA this year?"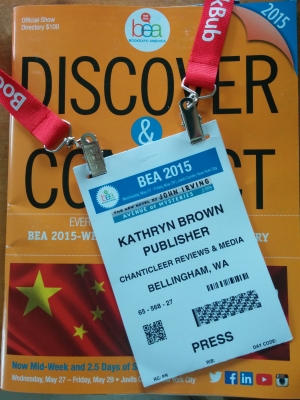 Book Expo of America is the number one event in the publishing industry for North America. It alternates between New York City and Chicago. This year's was in NYC; next year's will be held in Chicago, May 11 – 13, 2016.
The publishing industry giants are out in full force with huge pavilions. Notice that I did not say "booths".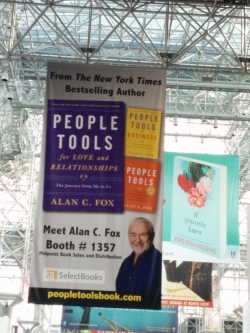 The banners in the photo on the right are at least fifty feet long and twenty-five feet wide if not larger. The installation of these megalithic banners must have utilized a crane and a professional crew to hang them  from the rafters of the Jacob Javitz Convention Center, which is about the size of an airport terminal. These banners were every where and they definitely highlight the importance of book covers. But more on that later.
Everything at BEA is Done in a Big Way!
Top authors,  celebrities, agents, industry captains, distributors, selling platforms (Kobo, Bublish, etc.)  and huge publishing houses are vying for attention to create big buzz.  Thousands and thousands of books are given away to attendees. Author signings are going on non-stop. See the photo below of A-list actress Julianne Moore.
Chanticleer Reviews did not have a booth or a table at BEA. And it was a good thing that we didn't  because we would have been lost in the crowd and probably relegated to the hinterlands. However, we were given an official BEA 2015 PRESS pass that allowed me to wander the entire show. The press pass gave me access to just about everything going on. It was a huge exposition/convention, with multiple presentations going on at all times, but I did manage  to get some scoops that I want to share with the Chanticleer Community of Authors and Readers. Also, it is always a delight to meet and connect with Chanticleer Community members as well as  to make new connections and friends!
The BEA Startup Challenge and the IDPF Innovation Awards at BEA 2015
The most exciting events that I covered were the BEA Startup Challenge and IDPF Innovation Award (International Digital Publishing Forum) which held  competitions to recognize the best up and coming digital publishing start-up companies. I am honored to report that two of Chanticleer Reviews affiliates made the cut for the top contenders for the BEA Startup Challenge prize and Bublish made it to the shortlist for IDPF Innovation Awards.
Bublish with their Authorpreneur Dashboard and Powerful Book Marketing Tools.
The photo at the left is of Kathy Meis, CEO of Bublish presenting to the venture capitalists judging the contest.
Bublish has established and proven that using their digital marketing platform increases book sales substantially for independent authors and small presses.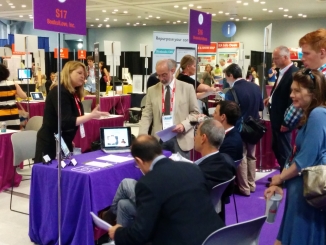 The Books I Love mobile phone app is a brand new way of sharing the books that you love with friends.
The photo at the left is of Elizabeth DiMarco, CEO of Books I Love presenting to the venture capitalists and judges of the IDPF Innovation Awards.
The Books I Love App will be instrumental in helping books go viral. The app is a social media tool for book lovers and readers! 
I am pleased to say that both businesses placed very well in the BEA Startup Challenge's fierce competition. The photo  shown was taken of the announcement of which businesses made the short list of the BEA Startup Challenge.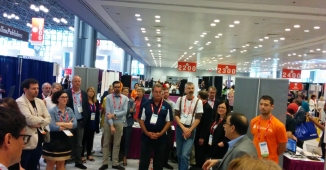 (Think Shark Tank.)
BEA 2015 TAKEAWAY: Tools for DIGITAL DISCOVERABILITY of BOOKS are at the forefront of the BEA 2015 Expo.
Authors and Indie publishers should not underestimate the importance of the Internet in today's new era of publishing. Utilizing the latest in digital technology tools to reach out to readers will help level the playing field between the industry's Goliaths and the small presses' and independent authors' Davids.
Both of these organizations have generously donated to the Chanticleer Writing Competitions prize packages for the First In Category Awards Winners and the Genre Grand Prize Award Winners. I  encourage all authors and aspiring authors to visit these two companies' websites. Take advantage of their services to give your books a competitive advantage in today's digital publishing era when two million new titles are launching annually.
Books I Love and Bublish are both sponsors of the Chanticleer Authors Conference and Awards Gala 2015.
BEA 2015 Tidbits Part 2
Stay tuned for BEA 2015 Part 2 when Nely Cab, Vanessa Hoffman, Christine Benedict, Julie Gilbert, Janet Oakley, Millie West, Reanne Hemingway Douglass, Shari Stauch, Bruce T. Jones, BQB Press, and others will be featured. I will also have more tidbits on what is trending in the publishing biz.