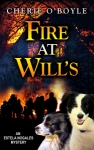 Publisher: I Street Publisher (2014)
Buy the book now at:

Amazon
Author's Website
When a psychologist calls on her powers of observation to solve a murder, she uncovers a secret that some in her small eclectic Californian community would rather keep buried. Fire at Will's by Cherie O'Boyle  introduces Estela Nogales as an amateur sleuth with a wry sense of humor,  a keen sense of observation, and two border collies  as sidekicks in this engaging new cozy mystery series.
Estela prides herself on doing a good job of navigating the petty grievances and animosities of her Arroyo Loco neighbors. And if it weren't for a few rule ­enforcing cranks she and her beloved dogs could enjoy all of the open space and clean air that her picturesque, coastal mountain community has to offer.
Will Rosenblum, the neighborhood's biggest grouch, has made it a habit to stick his nose where it's not wanted, going out of his way to ignite the ire of every one of his Arroyo Loco neighbors, so when his house goes up in flames suspicion lands in all directions, including at Estela's feet.
As the ashes settle, a body—thought to be Will's—is found at the back of the house. Also, Will's memory impaired wife is missing. A round of finger pointing brings everyone's actions into question causing Estela to realize that the only way to clear her name is to launch her own investigation.
With so many suspects Estela starts to wonder if Will's demise could have been an orchestrated community effort. Armed with her knowledge of human behavior and sharp powers of observation Estela examines the motives and actions of each person in Arroyo Loco and discovers an ugly secret.
In this first installment of the Estela Nogales series the author uses a small, isolated location with a captive, vocal population to skillfully address the question of how well we really know our neighbors or, for that matter, our friends. Although some are locked into mistrust and others prefer denial, Estela's unwillingness to allow wrong to prevail compels her to reveal the inconvenient details buried beneath the public facade.
With humor and keen insight into human nature, author Cherie O'Boyle offers up a clever cozy mystery filled with a varied and quirky cast of characters. From the strudel-­baking Freda von Liesing to Arroyo Loco's resident metaphysical hippie Sunshine Rainbow, each character is a classic slice of the diverse California lifestyle. O'Boyle's inventive homage to the HOA rules-­gone-­crazy communities springing up all over the country makes Fire at Will's laugh-­out-­loud fun!