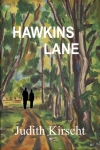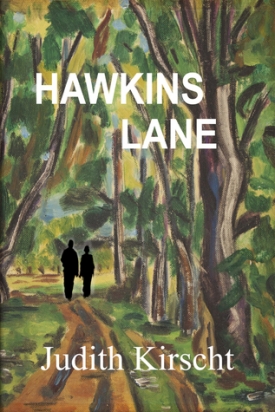 Publisher: New Libri Press (2015)
Buy the book now at:

Amazon
Author's Website
Judith Kirscht has penned a poignant story of two good people who struggle to escape their past and carve out a fulfilling life together. At its very core, this novel asks the compelling question of whether you can overcome the influences of family, and also, whether you can survive the consequences of your own actions.
As far as the people of the small town of McKenzie Crossing are concerned, Ned Hawkins is from the wrong side of the tracks. And that's putting it mildly—his father is a convicted murderer, his brother an alcoholic with a violent streak. Ned has spent his entire life feeling trapped and attempting to outrun his family's legacy.
As Hawkins Lane opens, Ned has escaped on his daily trek into his beloved Cascade Mountains to find peace and solace.  By chance, he comes upon a young woman, Erica Romano, fishing in a creek far from town. Erica is also escaping from the demands of her family, though their circumstances are very different: Erica is the daughter of the town's new physician and related to the rich and powerful McDonald family, owners of the local mill.
For both, it is love at first sight. Ned has grave reservations about exposing Erica to his family and wants to protect her by keeping his distance. Erica persists, convincing him that she needs him as much as he needs her.
Unfortunately, family almost always finds a way to impact one's life, and depending on the family, that impact can lead to tragedy. Ned's brother, who has been spiraling out of control ever since their father was sent to prison, ends up in trouble with the law. Erica, who is by nature a risk-taker, places herself in danger far too often, and the mountains are not always a forgiving place. However, when Ned's father is released from jail he spreads his own brand of poison, driving deep wedges and creating divided loyalties. Erica and Ned are challenged in ways that even they could not predict nor expect.
Hawkins Lane is an excellent and, ultimately, a redemptive story about the heart-wrenching tragedies a family can survive, and about the healing powers of nature and friendship. The characters and the story will linger long after the last page is read and you will be captivated from the first page.