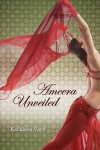 Publisher: BQB Publishing (2013)
Buy the book now at:

Amazon
Author's Website
Ameera, Unveiled is inspirational story of how, with courage to chase her dreams, Kat transforms herself to become Ameera, the exotic belly dancer of the Palmetto Oasis Middle Eastern Dance Troupe. This is a story about of how exhilarating and frightening it feels to take yourself out of your comfort zone and chase your dreams, and the amazing experiences you can have just by trying.
Kat spent most of her life doubting herself and her abilities–especially her ability to learn how to dance. Now at the age of 48, she finally feels comfortable enough in her life to finally pursue her dream of dancing by enrolling in a belly dancing class taught through the local high school. Through each lesson she timidly works up the courage not only to learn to dance, but to discard the self-doubt that she had burdened herself with for too long.
Kat finds herself having to battle with her inner-critic's heavy doses of self-doubt, and anxiety. The story reflects on how some women allow their inner critic to dictate their lives for far too long.
Kat's journey is about how hard it is to overcome years of believing you aren't good enough to do something, but how what happens when you go ignore your inner self critic and follow your dreams. Kat realizes it's not about a lack of talent that is holding her back, but her own self-doubt.
The author, Kathleen Varn, skillfully weaves scenes of everyday women transforming into exotic belly dancers. She vividly portrays, with detailed descriptions of their well-practiced routines and dance moves, and how through their diligence they are able to wow their audiences.
The dancers develop such a strong sense of individualism and self worth as they learn to move in exotic ways. The delightful interactions between each of the dancers is inspirational as they bond as a troupe.The camaraderie developed within the troupe is one of friendship and support that only a sisterhood of girlfriends could create.
And the troupe will need all the support and confidence that they can muster when they are surprised by one of their dance gigs when it turns out to be held at a clothing optional resort in Jamaica. Kat finds herself out of comfort zone in more ways than one as do several others of the sisterhood. But with each other for friendship and motivation, they are all empowered to explore, take chances, and believe in themselves.
Ameera, Unveiled by Kathleen Varn, is a coming of age story of a diverse group of middle-aged woman supporting each other to follow their dreams and to go outside their comfort zones and routines. Reading Kat's journey made me want to put on a shimmery scarf, an exotic flowing skirt, and learn to move in a fashion beyond my own comfort zone. It is an inspiring and fun story that reminds us that it is never too late to pursue your dreams and unlock your inner goddess.