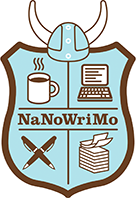 The RAW NaNoWriMo Writing Contest 2014 Award Winners

Chanticleer Book Reviews is honored to announce the Official Awards Winners of the RAW NaNoWriMo 2014 Writing Contest, a division of Chanticleer Writing Competitions.
The RAW NaNoWriMo Awards recognize emerging new talent and notable works that were created during the 2014 National November Writing Month.
Congratulations to Richard Gower for Death Comes Full Circle. He has won Chanticleer Manuscript Overview ($395 value).
Congratulations to the Runner-ups:
Sean Curley for Over
R.E. Steedman for The Phantasmagorical Theatre of Crespin Varlot
Kenneth Stokes for Return to Villa Serena
Each of the  2014 RAW NaMoWriMo Runner-ups have won a entry fee gift certificate ($55 value) for the work submitted into the work's  genre novel writing competition.
We will begin accepting entries into the 2015 RAW NaNoWriMo Writing Competition beginning on Dec. 1, 2015.
Image courtesy of National Novel Writing Month.  Please click here to be taken to the OFFICIAL NaNoWriMo organization's website.
NaNoWriMo Facts and Stats
National Novel Writing Month was established in 1999. It is also a 501(c)(3) nonprofit that believes stories matter.