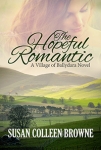 Publisher: Whitehorn Press (2015)
Buy the book now at:

Amazon
Author's Website
The Hopeful Romantic, Book 3 of The Village of Ballydara series, will transport you to the quaint farmlands of Ireland and to the city life of Dublin. The descriptions of the picturesque countryside of Ireland truly leave the reader wanting to hop a plane and visit the beautiful land. However,  even more compelling than the scenery depicted, is the story of a couple who after many years of marriage has begun to feel that their relationship is predictable and "comfortable" allowing for the wrong sort of habits to seep in–the habits that can cause discord and heartache.
How far can two people let things go before it is too late to save a relationship? The Hopeful Romantic is a story of what happens when a couple assumes that no effort is needed to maintain their relationship and then inevitably realize that their marriage is at risk.
Kerry, the novel's protagonist, after struggling to get back on track after her mother's cancer scare and a personal loss that Kerry can't come to grips with, begins to ask the question, "what if?" What if she had married Will, her husband's witty and charming best friend, instead of her steady, boring, and reliable husband Stephen? Would she be happier in her life? Would she feel more passion? Now that the rift between her and Stephen seems to be growing, it also appears that each of them is keeping secrets from the other, along with not being completely honest in their communications. Is their marriage beyond saving?
The pages of this engaging story explores many facets about marriage, relationships, and family life,  as well as the consequences of  romanticizing the past, which may leave only an empty heart unable to find happiness. Most importantly, the story reinforces the need of  communication and honesty to heal the many challenges that happen along the way in relationships.  The author, Susan Colleen Browne, writes with clarity and bluntness about how much effort and honest communication goes into keeping a marriage alive and its partners happy.
The Hopeful Romantic was a pleasure to read for its engaging characters, its authenticity, and its unforgettable moments. It is a poignant and, sometimes humorous, old-fashioned romantic story that rings true in its lesson: It has been said that for a marriage to work, that the partners must fall in love over and over with each other. Kudos to Browne for capturing this important life lesson about re-discovering true love in such an entertaining manner. We certainly do hope that the author will continue to transport us to the Emerald Isle in her next novel in the Village of Ballydara series.