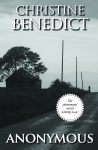 Publisher: Loconeal Select (2014)
Buy the book now at:

Amazon
Author's Website
"No one suspected the things her mother had done," but Debra Hamilton knows full well what skeletons lurk in her past, and she's spent a lifetime putting distance between herself and the crimes of her schizophrenic mother.
With the potential of mental illness lodged like a genetic time bomb in every cell of her body, Debra lives in constant fear that she'll follow in her mother's footsteps. So when things go missing and Debra starts hearing noises in the 100 year-old fixer-upper that she and her husband Greg bought, she's terrified that her mind, like her mother's, is beginning to crack.
Debra's pragmatic neighbor, Julie, delivers her own brand of common sense in dealing with the "events" that continue to occur in the old farmhouse. Julie's skepticism turns to concern and then fear as she experiences, first-hand, the otherworldly presence plaguing Debra's life. Then Julie's fears mount when she starts receiving graphic, sexually-charged letters from an anonymous stalker. As the intent of the letters becomes darker and more menacing, Debra's and Julie's worlds collide in ways they've never imagined.
Part ghost story, part psychological thriller, Christine Benedict's Anonymous illuminates the bond forged between two women, both survivors of a traumatic past, who become unlikely allies in the fight for their lives.
In Anonymous, author Christine Benedict has created a world rich in character. Through the use of flashbacks she invites the reader to learn more about the two main characters, Debra Hamilton and Julie Zourenger, allowing the reader to identify with each of the women. The author also breathes life into the subsidiary characters. Debra's supportive and loving husband, Greg, is skillfully counter-balanced by Julie's angry, verbally abusive husband, Kyle.
As to the genesis of the anonymous stalker, his history will leave readers wondering about things that go bump in the night. It's chilling to know that all the letters in the novel are from the man who stalked the author twenty-plus years ago, and he still remains anonymous as of today.
With a new plot twist around every corner, the author delivers a complex story of obsession and jealousy that will keep the reader turning page after satisfying page. Since its release, Christine Benedict's novel Anonymous has received stunning accolades and was shortlisted for a variety of literary awards. Fans of literary heavyweights A.M. Homes ("The End of Alice") and Robert Clark ("Mr. White's Confession") will find that Christine Benedict's Anonymous hits all the marks for an engrossing, edge-of-your-seat read.
Reviewer's note: This book contains graphic violence and adult content.