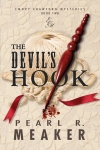 Publisher: Promontory Press
Empty-nester Emory Crawford is more than just a dab hand at home-making and fiber art. As a newly-installed instructor for the Twombly College crocheting class, she's also mother hen, mentor, and counselor to her eager students. So when a rash of mysterious gifts, all in the color red, start showing up in the girls' dorm rooms, Emory's intuitive radar system goes on alert. Then one of Emory's students, a recipient of the unwanted gifts, turns up missing and Emory is tasked with piecing together the meager clues left behind.
In the spirit of calming frayed nerves, Emory consents to move the class from the college campus to the comfortable Twombly residence only to find that society maven Amy Twombly and her wealthy husband Jairus are locked in marital combat over Jairus's new, and decidedly attractive, personal assistant. Between Amy's erratic behavior and her shouting matches with Jairus's assistant, Emory thinks things couldn't get much worse – until she finds Amy's custom-made, bloodwood crochet hook protruding from the eye of Jairus's stone-cold dead assistant. With motive, means, and opportunity all pointing to Amy, Twombly's antagonistic Police Captain Henry Schneider considers the case closed. But Emory's gut tells her otherwise.
In the search for the truth, Amy's daughter Madison plays Nancy Drew to Emory's Miss Marple. Using the full powers of her "Gift of Knowing" and a little help from her forensic scientist hubby, Emory and her sleuthing partner Madison unlock the secrets of the past and learn that not everyone is who they claim to be.
In The Devil's Hook, author Pearl R. Meaker delivers a fully-developed cast of rich, quirky characters that are sure to satisfy the discerning cozy mystery enthusiast. Her inquisitive and highly intuitive main character Emory Crawford, provides the perfect sounding board for all of the supporting characters and is a clever match to the brilliant young side-kick, Madison Twombly. The author also demonstrates a unique ability to illuminate the myriad facets of human relationships revealing, in the process, the similarities in all of us.
Twists and turns abound in this delightfully engaging second installment of Pearl R. Meaker's Emory Crawford mystery series. With the down home small town feel of Murder She Wrote and the multi-layered complexity of an Agatha Christie mystery, The Devil's Hook is a cleverly-crafted and enjoyable whodunit style cozy mystery.