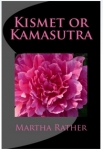 Publisher: Wild Hickory Publishers (2013)
Buy the book now at:

Amazon
A tour guide in India and a practitioner of Healing Touch, Sonia has a country farmhouse in Nashville, loyal friends, a generous but unfaithful husband, a flame on the other side of the world who seems to have forgotten her, and … breast cancer.
This highly engaging story, Part 3 of the series Romantic India by author Martha Rather, begins with Sonia burning up her "chemo pajamas" with her best friend, Clara Mae, in a wild "Freedom Fire Ceremony."
We learn in flashbacks the very real fear and agony Sonia experienced in her two-year struggle with breast cancer, losing her memory and almost losing her mind. Now she faces losing Carl, her antique dealer hubby, who prowls for old furniture by day and sweet young things by night.
Sonia pals around with a lawyer friend, Bob, though she dreams, frustrated, of handsome Raj, her fellow tour guide and Indian prince who, she is told, is about to get married on the other side of the world.
When Sonia and her friends are tapped to squire some struggling musicians across India, it's a chance to re-establish trust with the still-single Raj, break with Carl forever, and watch the haunting dreams of previous lifetimes unfold in this one.
Following the old dictum that writers should write about what they know, the author, like her heroine Sonia, has roots in South Dakota, lives in Nashville, has traveled extensively in India, and is a practitioner/instructor for Healing Touch International. Martha Rather writes in a wonderful girlfriend manner as though she is a dear friend catching us up on the latest happenings. She also seems as much at home with Southern accents as with Hindi street talk.
Settings, too, are a highlight, from a plain old Tennessee farmhouse to the romantic majesty of the Taj Mahal. There is rarely a moment when the action lags. The first half of the book, with its vivid descriptions of Sonia's battle with chemo and radiation treatments, projects a depth of self-exploration and insights. Readers are then taken on a rollicking jaunt through India, with a group of self-important musicians and tourists in tow, for the second half of the story.
Nonetheless, Martha Rather is careful to keep emotions and libidos always on the boil for her intended readers who enjoy stories filled with intrigue, romance, friendships, adventures, handsome princes, and, maybe, a flirtatious elephant thrown into the mix.   
Kismet or Kamasutra is a journey of self-discovery and the possibility of changing one's stars.  Kismet means destiny; fate and Kamasutra mean desire, but which one will win out?  In this uplifting and transporting novel of love and connection, Sonia and Raj must confront their worst fears and the fateful patterns that started a thousand years before.