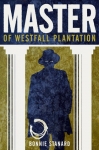 Publisher: Bonnie Stanard (2012)
Buy the book now at:

Amazon
Author's Website
Bonnie Stanard exposes some of the greatest plights of those who suffered from human bondage and slavery in her book Master of Westfall Plantation. Readers will be pulled into the novel's eloquent prose that paints the tragic moments of the antebellum South. This captivating and well-researched story will resonate with you long after you read the final page.
Set in Charleston, South Carolina and a nearby island shortly before the Civil War, the book introduces the central character Tilmon Goodwyn. He is cold toward his beautiful wife Georgiana (who is secretly shamed by her humble background), manipulative and suspicious of his widowed mother Phoebe, (who may be flirting with a sophisticated con man), and extremely cruel to slaves (while believing himself benevolent).
Tilmon blunders through the business of running a large plantation, yet, underpinned by the pernicious institution of slavery, manages to prosper nonetheless. Given to gambling and pleasing himself, he has already impregnated one slave and developed a seething lust for another—young Kedzie, who has a mind towards freedom and a deep hatred of her master that only stirs his passion more.
Passing his days in questionable business dealings, watching as his foreman lashes his slaves for the smallest infractions, Tilmon gives us little to like. The only time this arrogant husband, indifferent father, maladroit manager, and cruel overlord shows a smidgen of tender feeling is when Billy, a favorite slave, dies, probably having ingested poison meant for Tilmon himself—but administered by whom?
Meanwhile Georgiana, meeting by chance with the abolitionist preacher who raised her, plots to have Kedzie sent north via the Underground Railroad, not in sympathy for the girl's terrible circumstances, but as revenge for her husband's flagrant infidelity.
In a telling moment, Georgiana hears the laughter of gypsies and wonders how "a person of such poor circumstance could find anything funny," not grasping that it is freedom, not wealth, which brings happiness. Readers will no doubt want to cling to hope for Kedzie to find a way out of hardship. As the novel ends, there are muted mentions of events in Kansas and elsewhere that may influence Tilmon's dark empire that he rules with an iron hand and a perverted morality.
Bonnie Stanard is a freelance writer and editor whose skills come to the fore in this work, with finely honed language that at times borders on the poetic. Master of Westfall Plantation is part of a series, for which Stanard has assiduously researched her subject matter, even attaching a lengthy bibliography. She focuses on the evil of slavery, expressing, in a brief introduction, her conviction that "a man of good will who conforms to a bad culture is more bad than good."
The hopeless plight of those who suffered from human bondage and slavery is fervently depicted in the authentic voices of the "low country." Stanard's portrayal of Tilmon and other slave masters who believed themselves "righteous and good" chronicles the juxtapositions that permeated the antebellum South. This unrelenting pessimism and, at times, almost complete lack of even a ray of hope can make the read intense and uncomfortable. Nevertheless, Master of Westfall Plantation is a brilliant work speaking honestly of an unspeakable wrong.
The Master of Westfall Plantation is a companion novel to Kedzie, Saint Helena Island Slave (2012),  Sonny, Cold Slave Cradle (2013), and Westfall, Slave to King Cotton (2014). All four novels compose the well-researched and well-told Westfall series by Bonnie Stanard.