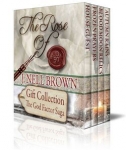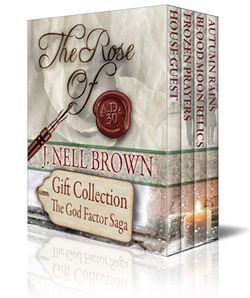 Publisher: Rogue Reads Publishing (2014-2015)
Buy the book now at:

Amazon
Author's Website
NOTE ABOUT REVIEWS: While Chanticleer typically does one book review post per book, we chose to have reviews for these short stories and book in this series all together on one webpage. We felt they all complement each other and deserve to be read together to give a greater perspective to the series. All reviews were written by K. Patterson.
Review of FROZEN PRAYERS by J. Nell Brown: Book 1 of the God Factor Saga
Readers ca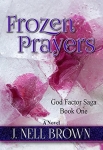 n expect a superb blend of genres in J. Nell Brown's Frozen Prayers: Book 1 of the God Factor Saga. This novel is a suspenseful biblical fantasy that weaves love and the paranormal into the lives of two individuals. This is not only a perfect read for someone wanting an enduring love story, but for anyone wanting to explore profound ideas about spirituality and God.
In 1977, Cillian Finn is born of his mother Mary Finn, entering the world in a dank, dark shack on a    remote island off the Antrim Coast of Ireland. He is the child of rape and unwanted by his mother. That same year, Daniela Cavanaugh is born to missionary parents Austin and Jeanette, in a hospital in Gainesville, Florida. Though she is deeply loved and wanted by her parents, she is a black child growing up in the South, during a time of rampant discrimination. Growing up thousands of miles apart, Daniela and Cillian's lives will nevertheless become deeply intertwined.
Shy, young Daniela dreams of a normal life, her days spent playing with a best friend and kindred spirit rather than dealing with the cruelty of reality. However, Daniela possesses a gift—the ability to see far into the past and into the future when she dreams. Her prayers, encouraged by her father, have the power to unlock the mysteries of the world, to bring about wars, and to protect the life of the lonely boy Cillian, living an ocean away in Manchester, England. If Daniela quits dreaming and praying about her kindred spirit, Cillian, what will be the impact on his life?
At its simplest, this is a novel combining spiritual and paranormal elements in a love story about a young girl who possesses the power of prophecy. It is also the tale of an epic battle between mortals and immortals and of unlocking the mysteries God intended for the world.
However, J. Nell Brown uses this story to reveal deeper questions about spirituality and how we conduct our lives. Exactly what can one accomplish through the power of prayer? And if you knew how your life would end, would you choose to live it differently? In this deeply spiritual first novel in the God Factor Saga, J. Nell Brown has crafted a heartwarming, sometimes heart-wrenching, and always suspenseful novel that is sure to linger in the minds of readers long after they read the final pages.
Review of HOUSE GUEST by J. Nell Brown, a prequel short story to the God Factor Saga series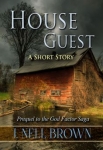 A prequel short story to J. Nell Brown's God Factor Saga series, House Guest, is an excellent read for   anyone who loves a story that immerses a historical setting into the realm of the paranormal.        Readers of the God Factor Saga will also be thrilled for this new addition to the spiritual and heart-  wrenching series.  
  House Guest tells the tale of the demon Nomed, sent out of the underworld to accomplish a mission    for Lucifer in return for a greatly desired job promotion. Nomed's assignment is to kill two eight-year-old children, Cillian Finn and Daniela Cavanaugh. Lucifer considers these children to be agents of his enemy, Elohim, who must be stopped before they can achieve their destinies.
Set in the early days of World War II, House Guest blends rich historical detail with spiritual, paranormal, and horror elements, providing a gripping and entertaining read. 
Review of A GENERATION OF LIGHTED EVERGREENS by J. Nell Brown: First  Novella in The God Factor Saga series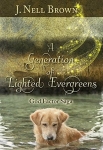 The first novella in the God Factor Saga, A Generation of Lighted Evergreens brings readers of the series more spiritual journeys and deeper connections with its minor characters.
This is the story of Austin Cavanaugh, ten years prior the birth of his daughter Daniela. Austin toils  away in the sugar cane fields of South Florida, drowning out the harsh, grinding reality of his life by  dreaming of the day when he will meet and marry his kindred spirit. He dreams of a future in which  his little girl will lead the life he always envisioned for himself.
Will Austin's deep spirituality and belief in God bring him through the trials of his life, to a time in which he will see his dreams realized? As with all of the God Factor Saga stories, J. Nell Brown spins a tale of spirituality that asks important questions about the power of religion and prayer, and enlightens readers with ideas that go beyond the natural world.