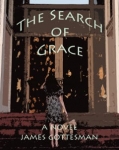 Publisher: James Gottesman (2014)
Buy the book now at:

Amazon
Author's Website
In November 1972, the sisters of St. Joseph's Orphanage in Missoula, Montana were stunned to find that a small child, approximately two years old, had been left on their doorstep in the middle of the night. Though she appeared to be in good health and had clearly been well cared for, she carried no identification. After six weeks of attempts by the orphanage and the police to discover who she was, the sisters decided to name her Grace Helena Pine, and to give her a birth date of January 1st.
This incident was the first of several that led Grace to believe—as many orphaned children do—that no one would ever truly want her. Her biological parents, an absent yet silently malevolent force in her life, had never wanted her; potential adoptive parents who loved her were forced to give her back to the orphanage. And once she turned eighteen, even the orphanage asked her to leave.
Through luck and no small amount of determination, Grace eventually meets and marries a young doctor, has children, and achieves her own professional success as a professor in linguistics. Years of counseling and hard work have paid off in terms of a reasonably normal life with a family she deeply loves. Nonetheless, she remains haunted by the traumas of her childhood, many of which are similar to those suffered by children in her circumstances. Deep down, she understands that she will never be completely whole until she knows where she came from.
Through serendipity, her daughter and her nephew both see a woman on the news who looks so much like Grace that both children think she is Grace. The woman even has the same unique mannerisms. Grace decides to investigate, and as she slowly unravels the truth about her past, she unknowingly threatens the lives of others as well as her own. Someone very powerful doesn't want the truth revealed.
A former oncologist, James Gottesman uses his extensive medical knowledge as well as detailed research into the psychology of abandoned children to craft a fascinating suspense novel. He accurately portrays the plight of illegitimate children in the late twentieth century, institutionalized by wealthy and powerful families afraid of the potential stain on their good name. Gottesman also shows how such an emotionally fraught situation can cause the biological family members to react with denial and suspicion, making it difficult for the child to ever develop a meaningful relationship with them. However, as Dr. Gottesman reminds us: genetics are irrefutable and will almost always cause the truth to come out.
Gottesman's characters are engaging and well-developed; his story builds on itself as the tension heightens and the suspense builds. Highly recommended for those who enjoy women's fiction novels with literary complexity, but that are still page turners. The Search of Grace is a riveting and satisfying read.