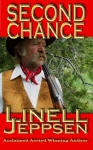 Publisher: CreateSpace (June 23, 2015)
Buy the book now at:

Amazon
Author's Website
In the early years of the twentieth century, the northern woods of Idaho were known for their booming mining towns. Families filed and worked claims, hoping to make a decent living and create a home for themselves on the Western frontier. Unfortunately, those booming mining towns also had their fair share of crime. Claim jumping, the violent practice of stealing valuables and producing claims, was commonplace.
In the fifth book of The Deadman series Second Chance, Linell Jeppsen uses this fascinating setting to craft a story about a trio of rich and powerful men who have made it their goal to acquire mining claims in Wallace, Idaho, using whatever means necessary. The local miners and their families who get in their way tend to end up dead.
Matthew Wilcox, recently retired from law enforcement, has established a new detective agency with his son, Chance. He and Chance are just coming off their first case, a successful sting operation against an illegal boxing scheme. Matthew is looking forward to some relaxation and training sessions with a new stallion they've acquired. But the newly installed telephone rings, and the news on the other end isn't good: Matthew's lady friend, Annie Thurston, has been nearly beaten to death and her friend is murdered.
This new case, Matthew quickly learns, is larger in scope than what he and Chance have handled in the past. What begins as a series of relatively simple-looking claim jumps and acts of violence  in the Northern Idaho woods ends up stretching all the way to the playgrounds of the rich and powerful in Seattle. The Wilcoxes are up against very powerful, very connected, evil villains.
Jeppsen has written a fast-paced, entertaining historical mystery set in the Northwest in a timeframe that is unusual for the western genre—the early twentieth century.
Using extensive research and her in-depth knowledge of the area, she provides an authentic blend of mystery and western genres, plenty of action, and even a bit of romance. Her ear for the vernacular of the time is dead-on, and her knowledge of the locales, from Idaho to Puget Sound, is clearly extensive.
Readers will be drawn to the characters from the very beginning, and will enjoy spending time with them again as they take on a trinity of bad guys.  The Deadman series is an action-packed, engaging blend of western and mystery fiction not to be missed.