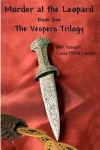 Publisher: CreateSpace (2012)
Buy the book now at:

Amazon
Many times, collaborative efforts by authors—especially with regard to their debut novel—suffer from fledgling attempts to master both the craft and the melding of two writing styles. Not so for this stunningly well-written, debut historical mystery.
Murder at The Leopard, the first book in the Vespers Series set in Palermo, Italy during the thirteenth century, brings to life a fascinating time in European history. Vassari and Lampe have captured the essence of this era, providing a wonderfully complex tale of greed, past betrayals, revenge, and murder.
With a deft hand and a talent for storytelling, the authors introduce you to a rich cast of characters, from local tavern owners to spies under the employ of a despot ruler. A simple farmer and his very pregnant wife travel to Palermo, hoping that God will grant their wish for a boy.
A long-lost brother, an old crusader who has returned home after decades and harbors old secrets, accompanies them. A wealthy merchant sends his ne'er-do-well nephew to guide them on their journey whilst placing him under orders to spy on King Charles' preparations for war. Local tavern and inn owners hope for good commerce during the upcoming Holy Week celebrations. Against this backdrop, an engaging and entertaining murder mystery unfolds.
The main heroes of the Vespers Series are the tavern owners Ysabella de Rogerio and her charming husband Amodeus. In this first novel, they've timed the opening night of their new neighborhood tavern with Holy Week, to take advantage of the pilgrims who are flooding into Palermo. Unfortunately, the religious holiday also brings together old enemies, and the celebrations at The Leopard quickly turn serious when a wealthy merchant, Ludovico, is murdered. The sheriff arrives, and after a brief investigation, wrongfully arrests Amodeus for the crime.
Soon after, a second murder occurs, further jeopardizing the reputation of The Leopard and the life savings Ysabella and Amodeus have poured into their tavern.
It's up to Ysabella to prove Amodeus is innocent, find the real killer, and save their business. As she begins to dig deeper into the lives of those involved, she uncovers past betrayals, greed, a thirst for revenge that hasn't faded in the forty years since the Crusades, and even the dirty deeds of spies working to topple the current king.
Vassari and Lampe have employed accurate historical detail—along with likable and complex characters that quickly become old friends—to give readers an entertaining and engaging read from the very first page. Highly recommended for those who love historical fiction or a good rousing mystery!