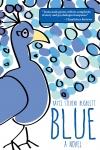 Publisher: BQB Publisher (2015)
Buy the book now at:

Amazon
Author's Website
This lyrically written, beautiful story of three emotionally broken yet connected women begins in present day, illustrating the current struggles each faces to simply hold it together and get through each day. The tale then slowly unravels—as these women's lives unravel—to reveal the mystery in their past that connects them.
We meet Izabel—a young woman who arrived on Shaw Island in Washington State without any memory of her life up to that point. Taken in and cared for by the nuns, she then trained as a doula, a birthing coach. Izabel now lives on Orcas Island and is a valued member of the community, but it soon becomes apparent that she is struggling with the re-emergence of repressed memories.
As those memories surface, her current life begins to deteriorate: She dreams of a teenage girl, experiences birthing pains after a particularly difficult night with one of her clients, and almost melts down in a coffee shop when a name mentioned by a friend sounds horribly familiar. Izabel knows that she must deal with whatever is happening to her and turns to a close friend and mentor for help.
Not far away in Seattle, we meet Monica, a single, clinically depressed woman with a closeted addiction. Her life is unraveling, and she has no idea how to put it back together. Through a sequence of events she meets Jack, a psychotherapist, who cares deeply about her and supports her as she grapples with overcoming her problems.
And Daisy dreams in shades of blue about the fantastical world of Tausi in which creatures talk about philosophy and an evil master is plotting her demise. Is she having a near death experience? Or is she really dreaming? Where is she?
Kayce Stevens Hughlett has used her extensive background in therapy and as a life coach to create a novel about the deeply rooted psychological connections between all of us. Blue is a story that is at times wonderfully whimsical, and at others, poignant, heartfelt, and even suspenseful.
But most of all, it is an uplifting tale about how three women who have spent years only half alive and struggling, and who, with the help of a supportive network of friends, eventually deal with past traumas and are able to find their way back to each other.
Blue transcends genres with its complexity of story and psychological suspense. It would not be a surprise if it appears on Oprah's Book Club list. A poignant, inspiring tale of three women, emotionally damaged by the events of their lives, who ultimately find their way back to each other.