Just in time for Halloween! The Secret Astoria Scavenger Hunt, Susan Colleen Browne's new kids' book, is scheduled for a Goodreads Giveaway starting Sunday, October 18! This haunted house adventure will also be a free ebook on Amazon October 27-29!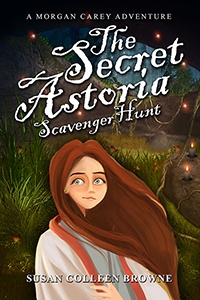 If you loved The Goonies movie, then take advantage of The Secret Astoria Scavenger Hunt! give-away!
The Goonies Anniversary Celebration brings Seattle tween Morgan to Astoria, Oregon, for a fun weekend with her younger Astoria cousins, Sean and Ronan. The Anniversary festivities are in full swing at this historic riverfront town, plus the boys have just entered a spooky contest inspired by the movie. When the boys ask Morgan to help them win the grand prize, she's determined to make their Anniversary Celebration weekend together the most memorable ever! Will Morgan, Sean and Ronan be able to escape from the powerful forces of the past? Or will they remain trapped in a world of shadows and dangerous secrets?
#TheGoonies