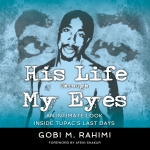 Publisher: Promontory Press (June 15, 2015)
Buy the book now at:

Amazon
Author's Website
In the early '90s, up-and-coming artist Tupac Shakur was taking the rap industry by storm. Known for his electric energy and controversial lyrics, his music focused largely on social injustices and oppression. Equally notorious for the brilliance of his music and for his frequent problems with gang violence and the law, he accrued a large and passionate community of listeners and fans. When he was killed in a drive-by shooting at the young age of 25 in 1996, his legacy as a well-known and respected voice within the genre lived on.
In the book His Life Through My Eyes, filmmaker Gobi Rahimi, who worked continually with Tupac in the months preceding his death, offers a unique glimpse into the artist's day-to-day life. Sparing no detail, Rahimi takes the reader on an intimate and emotional journey through his memories of the times spent with Tupac, aided by photographs he took during the time. Rahimi tells the story of how he came to work with Tupac and become his close friend.
This book is shamelessly personal; it is as much about Rahimi's journey to process Tupac's  death and honor his legacy as it is about Tupac himself. This is to Rahimi's credit, though. What might otherwise feel like a series of empty anecdotes is bonded by Rahimi's laudable honesty and openness with regards to his grief and admiration for Tupac.
Rahimi touches on the sociopolitical controversy and turmoil that surrounded Tupac during his life, and does not gloss over Tupac's struggles with racism in the music industry. However, his focus is much more on Tupac as a human being than as a public figure. Rather than recounting details of his friend's public persona, he centers on portraying the man he knew.
In many ways, the book reads very much like a series of diary entries. Some may find Rahimi's accounts somewhat chaotically organized, but overall the stories provide captivating, interesting, and thought-provoking insights into Shakur's life. Rahimi's respect and love for his friend ultimately shine through. Engaging, personal, and deeply felt, Rahimi's tribute to Tupac Shakur will be sure to move those interested in his legacy.