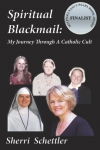 Publisher: Lifelong Habits LLC (2014)
Buy the book now at:

Amazon
Author's Website
In the early 1960s, leaders of the Roman Catholic Church found themselves grappling with dynamic shifts in the expectations and needs of contemporary society. In order to accommodate these shifts Pope John XXIII called for a special gathering of religious leaders. The gathering, referred to as the Second Vatican Council, aka Vatican II, outlined new strategies to make the disciplines of the Church and the explanations of her doctrine more accessible to her members.
Unfortunately many of the clergy, as well as the faithful, viewed these strategies as an undermining of centuries-old Catholic doctrine. Confusion and alarm within the hearts and minds of many traditionally-minded Catholics was the unfortunate result.
Author Sherri Schettler's family was one of the many that succumbed to a deep-rooted fear that the new church had lost the necessary wherewithal to satisfy their spiritual needs. It was this sentiment that rendered them vulnerable to the charismatic "Bishop" Francis Schukardt who, with his renegade faction of misguided fundamentalists, shepherded them into the dark territory of mind control, and ultimately, betrayal. For Sherri, a trusting, vulnerable 14 year-old, the journey became one that would severely test both her faith and her resolve.
Informative and introspective, "Spiritual Blackmail" reveals the many facets of traumatic bonding, also known as Stockholm syndrome, in which an isolated individual identifies with and often defends her "captors." But Sherri proved to be no ordinary follower.
In this honest and courageous memoir, author Sherri Schettler provides the reader with a riveting account of her years of near-incarceration within the confines of the ultra-traditional Fatima Crusade. And with grace and compassion she exposes, understands, and, ultimately, forgives the cruel actions of a spiritual flock that strayed from its Christian path.
Author Sherri Schettler's story is a cautionary tale of the power of deception and a window into the genesis of radical fundamental religious thought.
Reviewer's Note: The Second Vatican Council was formally opened by Pope John Paul XXIII on 11 October 1962 and closed by Pope Paul VI on 8 December 1965.