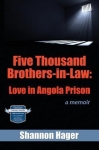 Publisher: Shannon Hager (2015)
Buy the book now at:

Amazon
An authentic and insightful account from behind the bars at one of America's most storied penitentiaries. Shannon Hager, who worked more than twenty years as a nurse in the deep South's prisons and jails, shares her inside experiences.
After her years of connecting directly with this bizarre, labyrinthine system that strips away almost every human right, she retains genuine empathy for prisoners and their families in this award-winning memoir.
Hager's drama began ​in 1992 ​when she arrived at the Louisiana State Penitentiary, commonly known as Angola, a name held over from plantation days, denoting the origin of slaves who toiled there. Eighteen thousand acres are surrounded on three sides by the Mississippi River. Angola has been the last stop for thousands of criminals.
Hager had important tasks as a health care professional, such as tuberculosis testing and investigating HIV/AIDS cases within its walls. Hager ​quickly learned ​that most of the staff were hostile toward anyone trying to help prisoners​. Above all, she was told repeatedly, prisoners were not to be trusted. This led to such paradoxical policies as refusing to allow prisoners to use condoms, because they could be utilized as weapons, or for transporting drugs, even though HIV/AIDS was widespread in the prisoner population.
​Though she came to know many prisoners well, and not only befriended but married one, she never got over the feeling of oppression and sorrow that festered inside the prison: "Pain seeped up from the ground like morning fog."
When she met Big Kidd, an older ​convict who had spent more years in prison than out, she found herself falling for with this ​charming, seemingly reformed, self-styled disc jockey/preacher. She quit her job to have a relationship with him; Hager became involved with Big Kidd's family on the outside. She began to understand what relatives and loved ones experience when they have someone near and dear to them in prison.
Hager poignantly describes her own love story, blooming from the jagged cracks of Angola Prison, as it tries to find enough light and humanity to survive. ​Loving Big Kidd caused her to share some of his suffering:  ​little privacy, no conjugal visits, and hard choices. It is a love that dramatically breaks all rules.
Hager's writing style comes from the heart and reflects her gradual immersion into Big Kidd's reality. Using the common Louisiana practice of nicknaming, she vividly describes the characters she encountered, adopting their ​accents in conversation and sometimes even writing ​in their colorful street patois.
Discrepancies and shortcomings of the United States penal system that encompassed more than two million people are exposed by Hager in an up close and personal way. Most of the two million prisoners come from unrelenting impoverishment, turbulent environments, and have no education or skills.
A rare, vibrant view of a complex, dangerous, and at times, inhuman subculture of contemporary society–Five Thousand Brothers-in-Law communicates a significant and compelling message about the poor and oppressed—whoever they are, no matter what their misdeeds. ​