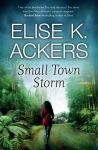 Publisher: Penguin Books Australia (2012)
Buy the book now at:

Amazon
Author's Website
Aptly titled, Elise K. Ackers's Small Town Storm is an intriguing and electric mystery set in contemporary Olinda, Australia. Jordan Hill and Erica Lawrence were inseparable childhood best friends until one fateful night when Erica's family was torn apart and Erica disappeared without a trace.
Jordan has always assumed she died. Nineteen years later, Jordan is the new senior constable in his hometown. He has several issues to contend with, including catching up on the small town gossip he has missed out on over the years while living in Melbourne. But when he runs into Erica, a ghost from his past, things take a turn for the worse.
Erica, too, is newly returned to Olinda, taking a position as a veterinarian in the same town where she disappeared from all those many years ago. Jordan, who has spent years devastated by her supposed death, is shocked and angry when he encounters her—doesn't she understand the pain she caused him? Erica, too, is saddened by Jordan's less than warm response. To make matters worse, a murder has shaken the peaceful town and Erica is the sole suspect. Erica and Jordan must put aside their differences in order to find answers.
Ackers takes a fascinating premise and enlivens it with sparkling dialogue, small town details, and excellent characterization. Readers will be immediately captivated by both the mystery plot and the burgeoning romance between Erica and Jordan.
Additional layers of intrigue surrounding why Erica left town nineteen years before and what happened to her family add depth and complexity to the plot. Even secondary characters are well-drawn, lending the story an authentic voice and making the menacing plot palpable and chilling. The novel moves at a brisk pace ratcheting up the suspense level to a crescendo on all fronts. Fans of mysteries and suspense novels will be sure to be captivated by Small Town Storm, but be warned that this is a darker mystery complete with serial killers and gruesome acts.
Fans of mysteries and suspense novels will surely be captivated by the engrossing Small Town Storm, an intriguing and well written mystery page-turner that will have you double-checking your locks and looking over your shoulder. Elise K. Ackers is certainly one to watch.