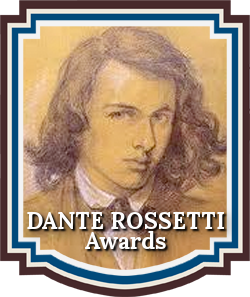 The Dante Rossetti Writing Competition recognizes emerging new talent and outstanding works in the genre of  Young Adult Fiction. The Dante Rossetti Awards is a division of Chanticleer International Novel Writing Competitions.
More than $30,000.00 dollars worth of cash and prizes will be awarded to Chanticleer Book Reviews 2015 writing competition winners!
The Dante Rossetti Awards FIRST IN CATEGORY sub-genres  are:  Contemporary Young Adult, Science Fiction & Fantasy, Paranormal, Dystopian/Edgy/Urban, Mystery/Thriller/Suspense, Historical Young Adult, YA Adventure, and Romance.
The following titles will compete for the FIRST IN CATEGORY Positions and Awards Packages.
This is the OFFICIAL Finalists List for the 2015 Shortlist of the Dante Rossetti 2015 Novel Writing Contest for Young Adult Fiction.
Sally Hughes for Bridget Casey: Revelation
Philip Carlisle for Time's Will: Eyes of Phire
Robert Joseph for  Long Ago and Far Away
Jo Swanson for The Last Rodeo In Kingdom Come
Michael Burnam for The Last Stop
Kelley J. P. Lindberg for  True Love Never
Laurisa White Reyes for Memorable
Tristan R.B. for Written in Action
Kyle R. Zeller for Knights of the Withering Flame
Christopher Allan Poe for Dark Sight
Helena Loveland for Ylsnavan
E.E. Holmes for Spirit Prophecy: Book 2
Maggie Bolitho for Lockdown
Tanya Fyfe for Lost and Found
Gail Selvig for O.W.L.S. and Other Creatures of the Night
Luke Evans for Hex
Jo Swanson for The Last Rodeo in Kingdom Come
Lis Anna-Langston for Tupelo Honey
KB Shaw for Neworld Series
Alix Nichols for What If It's Love
Glen Alan Burke for Jesse
Ben Hutchins for Lackawanna
Jesse Atkin for  The Flying Man
Pamela Woods-Jackson for Genius Summer
Verity Croker for May Day Mine
Robert Joseph for Long Ago and Far Away
Aiden Riley for The Red
Jamie Zerndt for The Cloud Seeders
Pamela Beason for Race with Danger
Melissa A. Craven for  Emerge: The Awakening
Nikki McCormack for The Girl and the Clockwork Cat
Patrick Hodges for Joshua's Island
Michael Burnam, MD for The Last Stop
Kathe Maguire for The Harriet Club
Suzanne de Montigny for The Shadow of the Unicorn II: The Deception
Laurisa White Reyes for Memorable
Laurence Sullivan for Rosewall Academy Valentine's Day
Mike Hartner for I, Mary: Book 3 in the Crofter Saga
Olivia Wildenstein for Ghostboy, Chameleon & the Duke of Graffiti
Suzanne de Montigny for The Shadow of the Unicorn II: The Deception
Stephanie DeLuca for Pilgrims 
Rikki Leigh Carson for The Princess and the Locket
Aiden Riley for The Red
Pat Johnson for The Virgin and Marilyn Monroe
Danielle Burnette for The Spanish Club
Cody Wagner for Camp NO Where – A Healing Home for Gay Kids
Michael Beyer for Magical Miss Morgan
Michael Sarrow for Mistress of Marrowglen
This is the Official List of Finalists for the 2015 Dante Rossetti Awards
The Dante Rossetti Finalists will compete for the Dante Rossetti First In Category Positions, which consists of Four Judging Rounds.  First Place Category Award winners will automatically be entered into the Dante Rossetti GRAND PRIZE AWARD competition, which has a cash prize of $250 or $500 dollars in editorial services. The CBR Grand Prize Genre Winners will compete for the CBR Overall Grand Prize for Best Book and its $1,000 purse.   

All First In Category Award Winners will receive high visibility along with special badges to wear during the Chanticleer Authors Conference and Awards Gala.
First In Category winners will compete for the Dante Rossetti Awards Grand Prize Award for the $250 purse and the Dante Rossetti  Grand Prize Ribbon and badges.
TEN genre Grand Prize winning titles will compete for the $1,000 purse for CBR Best Book and Overall Grand Prize.
A coveted Chanticleer Book Review valued at $345 dollars U.S. CBR reviews will be published in the Chanticleer Reviews magazine in chronological order as to posting.
A CBR Blue Ribbon to use in promotion at book signings and book festivals
Digital award stickers for on-line promotion
Adhesive book stickers
Shelf-talkers and other promotional items
Promotion in print and on-line media
Review of book distributed to on-line sites and printed media publications
Review, cover art, and author synopsis listed in CBR's newsletter
Default First in Category winners will not be declared. Contests are based on merit and writing craft in all of the Chanticleer Writing Competitions.

As always, please do not hesitate to contact us with any questions, concerns, or suggestions at Info@ChantiReviews.com. 

Congratulations to the Finalists in this fiercely competitive contest! 
Good Luck to all of the Dante Rossetti Finalists as they compete for the coveted First Place Category  positions.
First In Category announcements will be made in our social media postings as the results come in.
The Dante Rossetti Grand Prize Winner will be announced at the April 30th, 2016 Chanticleer Writing Contests Annual Awards Gala, which takes place on the last evening of the Chanticleer Authors Conference that will be held in Bellingham, Wash. 
We are now accepting submissions into the 2016 Dante Rossetti Awards writing competition. The deadline for submissions is May 30th, 2016. Please click here for more information or to enter the contest.