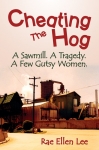 Publisher: Great Blue Graphics (2013)
Buy the book now at:

Amazon
Author's Website
When her bell-ringing employment for the Christmas season ends, Echo Spangler tackles a higher paying job demanding heavy physical labor—one at the local saw mill that is known for paying above minimum wage, but is perilous to one's limbs.
Male bosses and a few male co-workers conspire to force her to quit, adding to the daily "business as usual" danger. But she needs this job to pay her bills, and she's determined not to let the jerks get the best of her. Rae Ellen Lee's novel Cheating the Hog  is full of snappy writing that conveys the groaning of Echo's muscles, while also showing her bravado and joy of simple pleasures against her taunting male co-workers.
Echo presents a gutsy hard crust to her bosses and the men lording over her in the sawmill, but reveals her big heart to three female co-workers, her mother, and old friends. Danger ramps up beyond the job when she tries to help the women escape domestic violence.
Readers will be engrossed in Lee's lively narrative style; learning along the way about the workings of the sawmill machinery the fatal chaos it may bring if things go wrong. Lee also brings us to life outside the mill. Echo's homelife includes her gun-toting mother, but Echo still carries the hopeful sparks of romance in her heart; even if she has to deal with prissy women and thick-skulled men.
This engaging story shows the life of gutsy women on the sharp edge of poverty–with no extra education­­ and none of the advantages of a relatively carefree upbringing. The author immerses the reader into Echo's daily life and demonstrate how such women experience the hardships relentlessly tumbling their way, enduring a male-dominated work culture, and living through its dangers. The book's overarching theme encompasses underprivileged women who work hard, laugh hard, love hard, fight hard, and never give up. They forgive when they can, all the while struggling to show courage against odds most readers hope they will never face.
People busy with their own lives don't often give much thought to the hard and dirty jobs millions of men and women do every day. The author shows how (and why) many working folks muster the ability to face danger, fear, and death daily on the job. When readers turn the last page, they'll be glad that they read the entertaining and enlightening Cheating the Hog engagingly written by the talented Rae Ellen Lee.