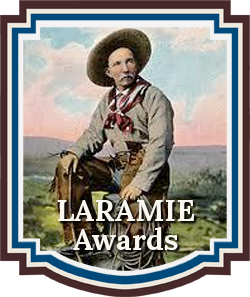 The LARAMIE Awards Writing Competition recognizes emerging new talent and outstanding works in the genres of  Western Fiction. The Laramie Awards is a division of Chanticleer International Novel Writing Competitions.
More than $30,000.00 dollars worth of cash and prizes will be awarded to Chanticleer Book Reviews 2015 writing competition winners at the Chanticleer Authors Conference April 30, 2016!
The Laramie Awards FIRST IN CATEGORY sub-genres  are:
Western Romance
Adventure/Caper
Classic
Civil War/Prairie/Pioneer
Contemporary Western
Western Young Adult
The following titles will compete for the FIRST IN CATEGORY Positions and Awards Packages.
The OFFICIAL LIST of Finalists Authors and Titles of Works that have made it to the Short-list of the Laramie 2015 Novel Writing Contest.
Sara Dahmen – Doctor Kinney's Housekeeper
Martha Conway – Thieving Forest
Ken Farmer & Buck Stienke for Across the Red
Andy Kutler for The Other Side of Life
Linell Jeppsen for Second Chance
Allen Russell for Crow Feather
Quinn Kayser-Cochran for  Silver State
Robert Morgan Fisher for The Long Trample
David M. Jessup for Mariano's Choice
S. Thomas Bailey for Blood Lines-The Gauntlet Runner 
Cheri Kay Clifton for Destiny's Journey
Kevin Horgan for The March of the Orphans And the Battle of Stones River
Lori Crane for  Okatibbee Creek
D W Tarman for A Soldier's Covenant
Christi Corbett for  Tainted Dreams
Laura McMennamin for Winter Shadows
Driskell Horton for Pleasant Hill
JvL Bell for  Colorado Gold
C.J. Fosdick for The Accidental Wife
Alethea Williams for Walls for the Wind
Kristy McCaffrey for The Blackbird
Lynda J Cox for The Devil's Own Desperado
Caroline Clemmons for Winter Bride
Jenna Hestekin for Zeke's Fate
Miantae Metcalf McConnell for Mary Fields, First African American Woman U.S. Star Route Mail Carrier
Louise Lenahan Wallace for Children of the Day
Ransom Wilcox/Karl Beckstrand for To Swallow the Earth
McKendree Long for Higher Ground
Rebecca S. Nieminen for The White Hart
Christi Corbett for Tainted Dreams
Kevin Horgan for  The March of the 18th, A Story of Crippled Heroes in the Civil War
Buck Stienke for  Devil's Canyon
LIST TO CONTINUE — Thank you for your patience. We are working through the 2015 LARAMIE  entries.  
The Laramie Finalists will compete for the Laramie Awards First In Category Positions, which consists of Four Judging Rounds.  First Place Category Award winners will automatically be entered into the Laramie GRAND PRIZE AWARD competition, which has a cash prize of $250 or $500 dollars in editorial services. The CBR Grand Prize Genre Winners will compete for the CBR Overall Grand Prize for Best Book and its $1,000 purse.   

All First In Category Award Winners will receive high visibility along with special badges to wear during the Chanticleer Authors Conference and Awards Gala.
First In Category winners will compete for the Laramie Awards Grand Prize Award for the $250 purse and the Laramie Grand Prize Ribbon and badges.
TEN genre Grand Prize winning titles will compete for the $1,000 purse for CBR Best Book and Overall Grand Prize.
A coveted Chanticleer Book Review valued at $345 dollars U.S. CBR reviews will be published in the Chanticleer Reviews magazine in chronological order as to posting.
A CBR Blue Ribbon to use in promotion at book signings and book festivals
Digital award stickers for on-line promotion
Adhesive book stickers
Shelf-talkers and other promotional items
Promotion in print and on-line media
Review of book distributed to on-line sites and printed media publications
Review, cover art, and author synopsis listed in CBR's newsletter
Default First in Category winners will not be declared. Contests are based on merit and writing craft in all of the Chanticleer Writing Competitions.

As always, please do not hesitate to contact us with any questions, concerns, or suggestions at Info@ChantiReviews.com. 

Congratulations to the Finalists in this fiercely competitive contest! 
Good Luck to all of the Laramie Finalists as they compete for the coveted First Place Category  positions.
First In Category announcements will be made in our social media postings as the results come in.
The Laramie Grand Prize Winner and the First Place Category winners will be announced and recognized at the April 30th, 2016 Chanticleer Writing Contests Annual Awards Gala, which takes place on the last evening of the Chanticleer Authors Conference that will be held in Bellingham, Wash. 
We are now accepting submissions into the 2016 Laramie Awards writing competitions for Western Fiction. Please click here for more information or to enter the contests.