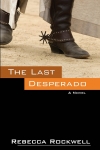 Publisher: Outskirts Press (2013)
Buy the book now at:

Amazon
Author's Website
His fame spreads with every train hold-up, bank robbery, horse theft, and whatever else he must do to survive. "The Last Desperado" by Rebecca Rockwell lassos the readers and keeps them on the ride into the last days of the Wild West in Kansas and Oklahoma Territories––a superb tale told in Bill Doolin's perspective of how he became a notorious outlaw creating the legend of the "Wild Bunch" gang.
The story begins when Bill ensures his widowed mother will get by before he leaves home and becomes a cowboy. A good son and a guy who cares. The intervention of railroads mercilessly cuts away swaths of land and usurps the need for cattle drives not leaving much opportunity for a young man in the West. Doolin's boredom and anger mounts and he slides over time into the leadership of "The Wild Bunch" gang, drawing cowboy buddies and others he meets along the trail, into the gang with him. Foreshadowing, treachery, and betrayal keeps the tension mounting.
Rockwell immerses readers in the life, loves, and deep friendships of Doolin, while they walk in his shoes, feel the rainstorms soaking through his clothes, understand his fears, and share in his love for his wife and child. She lets readers feel rides in the heat, the rainstorms and the crouch, hunkered down in the cramped dirt dugouts hiding from the "Lawdogs." Instead of labelling him an "evil dude" we admire him, maybe wishing we could know a man like him, and we understand, and many forgive, when he is cornered and commits violence. Our hope grows along with Doolin's when he finally yearns to change.
The dialogue remains true to the time and place in history, their speech revealing who they are and their lifestyles. The words, like a time machine, take us back to the years surrounding 1892. The reader gets to know the characters by how and what they speak, and can feel the settings through the conversations.
An excerpt and the set up: Bill Doolin gazes, eyes full of love, upon his wife Edith, and at his baby son in his arms. He feels the weight and the warmth and smells his son for the first time.
He thinks, "I didn't think I had enough room in me for all those feelings."
Rockwell brings this man and those he loves, along with a new perspective of the gang's bad boys, vividly to life. Her readers will get to know them and care about them–a mark of a truly great novel. "The Last Desperado" is highly recommended for those who love westerns and top drawer historical fiction.
"The Last Desperado" by Rebecca Rockwell is First Place Laramie Award Winner for Western Fiction.