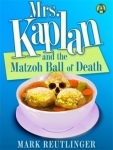 Publisher: Random House LLC (2014)
Buy the book now at:

Amazon
Author's Website
In classic Sherlockian style, author Mark Reutlinger introduces the reader to the clever and keenly observant Rose Kaplan through her side-kick Ida's narration. At times more Lucy and Ethel than Holmes and Watson, with a soupcon of Miss Jane Marple, these geriatric sleuths manage to poke their noses into the personal and financial business of everyone connected to the senior home, solving minor cases along the way and uncovering, in the process a series of secrets that provide for some highly entertaining twists and turns.
At the Julius and Rebecca Cohen Home for Seniors, Rose Kaplan is somewhat of an anomaly. In a residence fueled by one-upmanship and minor victories, Rose competes for nothing: not for friendship or affection or even a winning hand of cards. And without trying, her renowned Matzoh Ball Soup consistently earns top honors and a place at the home's annual Seder table.
Sadly, holiday celebrations can deliver unwanted surprises and this Passover serves up a doosey when reclusive resident Bertha Finkelstein is discovered, dead as a pickled herring, face-down in a bowl of Rose's prize soup.
But Bertha's untimely demise is the least of Rose's problem. When it's determined that Bertha choked on a pilfered earring, Rose is the main suspect in the theft not to mention responsible for Bertha's death. With more than just her culinary reputation on the line Rose enlists the help of her longtime friend and perennial snoop-in-crime, Ida Berkowitz.
Together they put their unorthodox amateur sleuthing skills to the test and, when one of their most important allies is sidelined, Rose finds herself "bending" the law to get the evidence that she hopes will clear her name.
In "Mrs. Kaplan and the Matzoh Ball of Death" author Mark Reutlinger delivers a well-developed supporting cast of rich, quirky characters. And in Rose Kaplan the author has created an endearing amateur sleuth who reminds the reader of the value of wisdom and knowledge acquired with age.
Filled with wit and clever Yiddish colloquialisms, this delightfully engaging first installment of the Mrs. Kaplan Mystery series is as warm and inviting as it is laugh-out-loud fun!