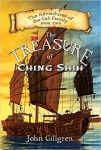 Publisher: Promontory Press, 1st edition (2015)
Buy the book now at:

Amazon
Author's Website
Gillgren continues to bring excellent children's fiction as he combines elements of history, romance, and adventure into a new type of treasure hunt. His second book The Treasure of Ching Shih in The Adventures of the Cali Family series induces new waves of excitement and mystery.
The Cali Family can't resist the opportunity to go diving in Honolulu, Hawaii for another treasure hunt experience. After all, who could resist diving for stolen loot left behind by the notorious, female Chinese pirate Ching Shih?
The reader sails into the year 1844 as Gillgren describes that dark, ruthless nature of Ching Shih. While female pirates existed throughout history, she proved herself unstoppable as she took command of her deceased husband's 1,800 ships and led over 80,000 men. Her thieving knew no bounds as she robbed jewels and opium. However, before the treasure could safely transition to Hawaii, a natural disaster seized the land, and the treasure was lost at sea.
Fast forwarding hundreds of years later, Mr. Chang visits the Cali family in California to ask for their help in finding Ching Shih's missing treasure. Their treasure hunt journey is anything but easy. The Cali family deals with villains that have the ruthlessness of Ching Shih herself, and no characters are who they appear to be. In spite of the chaos, the family proves that courage can overcome obstacles, and that hardships can't break the bonds of friendship and love.
Gillgren continues to excel as he blends the realms of history and fiction. Ching Shih's backstory is carefully woven into the plot, and has a huge impact on the story's happenings.
What sets this action adventure book apart is its brilliant characters. Carmine continues to be a protective, strong father for his family, and ends up being a great inspiration to his son, Snail, whose bravery allows him to escape when his family is kidnapped. Carmine also doesn't hesitate to show love to his wife or children, which also inspires Snail to grow a soft heart for Teri, a beautiful Chinese girl connected to the dastardly events of the novel. Mr. Chang also makes a fantastic villain, but the reader can still laugh when Carmine insults him.
Gillgren offers a fun, suspenseful, yet heartfelt read that will engage children and adults in the intriguing wonders of treasure hunting and sea exploration. Highly recommended for readers of any age who enjoy high sea adventures and a fun read. This is the second book in John Gillgren's The Adventure of the Cali Family series. This reviewer is looking forward to reading and reviewing the third book: The Treasure of Ocracoke Island.