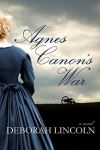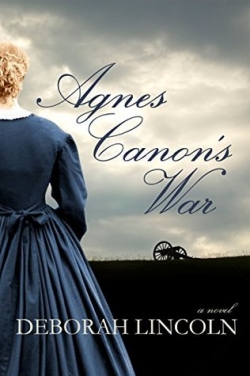 Publisher: Blank Slate Press (October 1, 2014)
Buy the book now at:

Amazon
Author's Website
Agnes Canon is too intelligent, and too stubborn, to let others make decisions for her. No matter what the consequences, her choices will be her own.
In this complex historical drama, schoolmarm Agnes Canon, refusing her father's choice for a husband, leaves the safety of her Pennsylvania childhood home for the wilds of Missouri in the decade before the outbreak of the Civil War.
On the way she meets, and eventually weds, Jabez Robinson, a medical man who has seen the wonders of the world and war at its foulest. Living in a territory with loyalties on both sides as the national conflict heats up, Jabez and Agnes, equally matched in intellect and stubbornness, abhor the Southern institution of slavery, but also despise the greed and interference of the North. Their struggles are real, and the chaos endured will pit their marriage against a dramatically changing civilization.
​Agnes is the pivotal character in this multi-layered story. She endures the pangs of childbirth and the deprivations of family life in a war zone. She watches as friends and neighbors go different ways in the war, and good men fight each other on the home front. She supports Jabez even as his publicly stated political ideals open them to harassment from violent, unprincipled militants.
Deborah Lincoln, who has based this novel on the life history of her great grandparents, writes with emotional intensity about dark times in an embattled landscape.
Unlike many Civil War sagas, this one takes no obvious sides. The focus is on Agnes—a vital, strong woman with feminist ideals, and Jabez, the only man smart and determined enough to gain her love. The romance is not overdrawn, though, and there is a complex skein of subplots providing scenes of rousing action and rich historical context.
Agnes Canon's War reminds us that war produces equal measures of bravery and barbarism, and those in its midst who hang on to their principles are rare and admirable. An excellent read that explores  love and societal schisms grown in the roots of cultural and political battles between the North and the South.