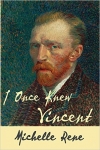 Publisher: Vabella Publishing; 1 edition (May 10, 2014)
Buy the book now at:

Amazon
Author's Website
Seven-year-old Maria Hoornik already knows more about life than she should, hiding in a curtained alcove whenever her alcoholic prostitute mother, Sien, brings customers home. One day, Sien brings home a different kind of man—an unknown artist, Vincent Van Gogh.
Vincent, longing for stability amidst his frustrations and failures, is determined to create a cock-eyed semblance of family life with Sien, who is pregnant with another man's child, and her daughter Maria, with whom he immediately bonds, admiring her critical honesty and calling her "Little Cat."
The three, and then Sien's baby Wilhelm, form a fascinating ménage in new author Michelle Rene's speculative novel based on considerable historical fact. Rene depicts Maria as a prodigy who comprehends her mother's self-destructive habits all too well. Rene elucidates, through Maria's curious gaze, the made-up family's grinding poverty, Vincent's stubborn insistence on doing his art his way despite his lack of economic success, and the constant quarrels over money and morals.
The child unwillingly absorbs the distress when Vincent's arrogant parents refuse to continue supporting their son's liaison with a known whore, forcing Sien to revert to her old ways to provide food. Maria's maturity is underscored in troubling vignettes: she sells her hair so they can all have one Christmas dinner, sacrifices a piece of cake to make a "soup" to feed baby Wilhelm when Sien's milk runs dry, and rushes home in a thunderstorm to try to stop Vincent from discovering that Sien is once again up to her old tricks.
Rene has designed Maria's story with verve, splashing colorful images across a well-planned canvas: "Silence crept into the room and pulled up a chair for a nice long visit." She deftly conveys a child's perception of Van Gogh's mental miasma: "Knowing what mood he would be in became a fine art in itself. I quickly became a master of that art." The text is satisfyingly interspersed with the artist's actual sketches and paintings of Sien, a notably ugly woman, and Maria, a serious, self-contained little girl rocking a cradle or sitting quietly while her mother sew; a little girl who, like Vincent, clearly wishes for the security of a real family.  
Told through the eyes of a child, I Once Knew Vincent offers an imaginative study of a tormented genius who would create some of the world's most recognized artworks. ​ ​