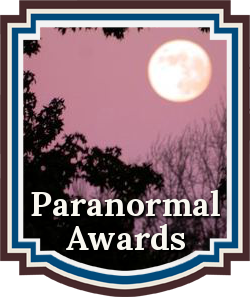 The Paranormal Awards Writing Competition recognizes emerging new talent and outstanding works in the genre of  Supernatural Fiction. The Paranormal Awards is a division of Chanticleer International Novel Writing Competitions.
More than $30,000.00 dollars worth of cash and prizes will be awarded to Chanticleer Book Reviews 2015 writing competition winners at the Chanticleer Authors Conference April 30, 2016!
The Paranormal Awards FIRST IN CATEGORY sub-genres  are:
Paranormal Romance
Urban/Edgy
Magical Beings & Creatures and Magical Systems
Supernatural Powers
Adventure/Mystery/Thriller
Paranormal
OFFICIAL LISTING of the 2015 Paranormal Writing Competition's Finalists
The following titles will compete for the FIRST IN CATEGORY Positions and Awards Packages.
Andy Kutler – The Other Side of Life
Kayla Hampton – The Assassin
Ben A Sharpton – 2nd Sight
Sabina Khan – Realm of the Goddess
Karen Musser Nortman – The Time Travel Trailer
Elizabeth Crowens – Silent Meridian: The Transparency of Time
R.J. Lewis – Fire In The Mind
Diana Green – Dragon Wife
M.L. Crum – Irony of Time
Mart Sander – The Goddess Of The Devil
Shaila Patel – Soulmated
Alex E. Carey – Earth's Embrace
Alex E. Carey – Water's Reflection
Joanne Jaytanie – Willow's Discovery, Book 3
Kim Hornsby – The Dream Jumper's Pursuit
Penny Page – Coven Corners
Carolyn Haley – The Aurora Affair
Gail Siler, PhD – Decoding the Butterfly Promise
Dana Faletti – Whisper: Book One 
Harry Steven Ackley – Our Lady of West 74th Street
Aphrodite Anagnost & Robert P. Arthur – Passover
K.C. Finn – The Book Of Shade
K.J. McPike – XODUS
Paula Cappa – Greylock
Kathi Bjorkman – Third Eye Witness-Bearer of Truth
April Holthaus – Legend of the Fae
Robert Wright – Witch Way Home
Diana Green – Bronze Fox
Marti Melville – Onyx Rising Deja Vu
Marti Melville – Silver Moon Deja Vu
Tessa McFionn – Spirit Fall
Richard Southall – Haunted Plantations of the South
D.L. Koontz – Edging through the Darkness
Kacey Vanderkarr – Stepping Stones
Linda Watkins – Return to Mategias Island
J. Steven Young – Blue Screen of Death
Michael Schmicker – The Witch of Napoli
R.E. Steedman – The Phantasmagorical Theatre of Crespin Varlot
AN ANNOUNCEMENT from Kiffer Brown, pres. of CBR.
We have moved the Chanticleer Reviews Writing Competition Awards evening up from September 24, 2016 to April 30, 2016. Our last awards evening was Sept. 29, 2015 when we presented the 2014 awards.This move makes the 2015 awards more relevant and recent for the winning authors. However, the date change has given us only six months to judge all the entries instead of the usual twelve months.
The reason why we scheduled CAC in September was because it was the only time available on the writer conferences' schedule. When there was an opening in April, we grabbed it!
However, after this April 30, 2016 awards ceremony for the 2015 winners, we will be back to having an entire year for the judging rounds for the 2016 contest submissions whose winners will be announced in April 2017 instead of September 2017.
Moving the awards ceremony also means that we had to move the conference and the accompanying book fair also up from September to April, which means we only have six months between CAC15 and CAC16.
My apologies for the contest announcement delays and we thank you for your patience and understanding as we are making big changes here at Chanticleer Reviews. Please do not hesitate to contact me directly at KBrown@ChantiReviews.com if you have any questions or concerns.
The Paranormal Finalists will compete for the Paranormal Awards First In Category Positions, which consists of Four Judging Rounds.  First Place Category Award winners will automatically be entered into the Paranormal GRAND PRIZE AWARD competition, which has a cash prize of $250 or $500 dollars in editorial services. The CBR Grand Prize Genre Winners will compete for the CBR Overall Grand Prize for Best Book and its $1,000 purse.   

All First In Category Award Winners will receive high visibility along with special badges to wear during the Chanticleer Authors Conference and Awards Gala.
First In Category winners will compete for the Paranormal Awards Grand Prize Award for the $200 purse and the Paranormal Grand Prize Ribbon and badges.
TEN genre Grand Prize winning titles will compete for the $1,000 purse for CBR Best Book and Overall Grand Prize.
A coveted Chanticleer Book Review of the winning title valued at $345 dollars U.S. CBR reviews will be published in the Chanticleer Reviews magazine in chronological order as to posting.
A CBR Blue Ribbon to use in promotion at book signings and book festivals
Digital award stickers for on-line promotion
Adhesive book stickers
Shelf-talkers and other promotional items
Promotion in print and on-line media
Review of book distributed to on-line sites and printed media publications
Review, cover art, and author synopsis listed in CBR's newsletter
Default First in Category winners will not be declared. Contests are based on merit and writing craft in all of the Chanticleer Writing Competitions.

As always, please do not hesitate to contact us with any questions, concerns, or suggestions at Info@ChantiReviews.com. 

Congratulations to the Finalists!  
Good Luck to all of the Paranormal Finalists as they compete for the coveted First Place Category  positions.
First In Category announcements will be made in our social media postings as the results come in.
The PARANORMAL Grand Prize Winner and the First Place Category winners will be announced and recognized at the April 30th, 2016 Chanticleer Writing Contests Annual Awards Gala, which takes place on the last evening of the Chanticleer Authors Conference that will be held in Bellingham, Wash. 
We are now accepting submissions into the 2016 Paranormal Awards writing competitions for Western Fiction. Please click here for more information or to enter the contests.