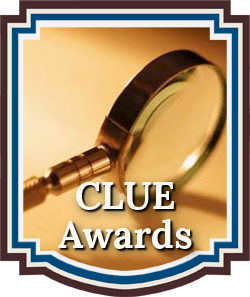 The CLUE Awards Writing Competition recognizes emerging new talent and outstanding works in the genres of  Thriller and Suspense Novels. The CLUE Awards is a division of Chanticleer International Novel Writing Competitions.
More than $30,000.00 dollars worth of cash and prizes will be awarded to Chanticleer Book Reviews 2015 writing competition winners at the Chanticleer Authors Conference April 30, 2016!
The CLUE Awards FIRST IN CATEGORY sub-genres  are:
Suspense/Thriller
Detective/Crime
Private Eye/Noir
Legal/Medical/Police Procedural
Spy/Espionage
2015 — Amateur Sleuth/Cozy
The following titles will compete for the FIRST IN CATEGORY Positions and Awards Packages.
This is the OFFICIAL FINALIST POSTING of Authors and Titles that have made it to the Short-list of the CLUE 2015 Novel Writing Contest.
CG Fewston for  A Time to Love in Tehran
K. J. Klemme for Tourist Trapped
Patrick M. Garry for Blind Spots
Shirley Worley for Easy Money
Sue Barnard for The Unkindest Cut of All
Michael A Smith for The Money Game
Timothy S. Johnston for The Void; The Freezer;  &  The Furnace
J.G. Schwartz for Inventing Madness
Timothy Smith for The Red House on the Hill
Antonio Commisso for Silent Partner
Dave Edlund for Relentless Savage
Joe Young for Indian Country
Hannah Warren for The Cottage on the Border
Gary Grossman for Old Earth
Joe Corso for Lafitte's Treasure
Laurie Stevens for The Mask of Midnight
Virgil Alexander for The Baleful Owl
Matt Stewart for The Man from KNEW News
DL Koontz for Edging through Darkness
Mark Pople for Rogers Park
Ivan Light for Deadly Secret of the Lusitania
Megan Davidson for The Thundering
Carol Hedges for Death & Dominion
Lucy Carol for Hot Scheming Mess
John T. Young for The Princess of Poland
Keith Tittle for A Matter of Justice
Scott D. Smith for Guilty Deeds
K. J. Klemme for Tourist Trapped
Mimi Barbour for Special Agent Maximilian
Michele Daniel for The Red Circle
Zach Fortier for Landed on Black; Hero to Zero; Street Creds
Lonna Enox  for Blood Relations
Rian Everest for The Tangerine Tigress & The Tangerine Trio
M. L. Rowland for Murder on the Horizon
Ken Oder for The Closing & Old Wounds to the Heart
Marilyn Ida Horowitz for The Book of Zen
Christine Benedict for Anonymous
Debra Erfert for Relative Evil
Joan Hall Hovey for The Deepest Dark
S.J. Dunn for Angry Enough to Kill
Hubert Crouch for The Word
Kent Politsch for Blood Anger
Stephen Kaminski for Murder, She Floats
Tom Dalgliesh for  All Corpses on Deck
D. J. Adamson for Outre
J.A. Faura for Apex Predator
N.G. West for Nine Days to Evil
Vanessa Leigh Hoffman for Treasure
Chief John J. Mandeville for Pine Village Co-op Murders and Sherlockito
J.J. Chow for Seniors Sleuth
Vinnie Hansen for Black Beans & Venom
Marian Exall for  A Dangerous Descent
The CLUE Finalists will compete for the CLUE Awards First In Category Positions, which consists of Four Judging Rounds.  First Place Category Award winners will automatically be entered into the CLUE GRAND PRIZE AWARD competition, which has a cash prize of $250 or $500 dollars in editorial services. The CBR Grand Prize Genre Winners will compete for the CBR Overall Grand Prize for Best Book and its $1,000 purse.   

All First In Category Award Winners will receive high visibility along with special badges to wear during the Chanticleer Authors Conference and Awards Gala.
First In Category winners will compete for the CLUE Awards Grand Prize Award for the $250 purse and the CLUE Grand Prize Ribbon and badges.
TEN genre Grand Prize winning titles will compete for the $1,000 purse for CBR Best Book and Overall Grand Prize.
A coveted Chanticleer Book Review valued at $345 dollars U.S. CBR reviews will be published in the Chanticleer Reviews magazine in chronological order as to posting.
A CBR Blue Ribbon to use in promotion at book signings and book festivals
Digital award stickers for on-line promotion
Adhesive book stickers
Shelf-talkers and other promotional items
Promotion in print and on-line media
Review of book distributed to on-line sites and printed media publications
Review, cover art, and author synopsis listed in CBR's newsletter
Default First in Category winners will not be declared. Contests are based on merit and writing craft in all of the Chanticleer Writing Competitions.

As always, please do not hesitate to contact us with any questions, concerns, or suggestions at Info@ChantiReviews.com. 

Congratulations to the Finalists in this fiercely competitive contest! 
Good Luck to all of the CLUE Finalists as they compete for the coveted First Place Category  positions.
First In Category announcements will be made in our social media postings as the results come in.
The CLUE Grand Prize Winner and the First Place Category winners will be announced and recognized at the April 30th, 2016 Chanticleer Writing Contests Annual Awards Gala, which takes place on the last evening of the Chanticleer Authors Conference that will be held in Bellingham, Wash. 
We are now accepting submissions into the 2016 CLUE Awards writing competitions for Western Fiction. Please click here for more information or to enter the contests.