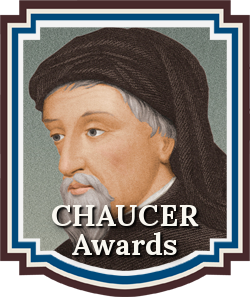 CHAUCER Awards 2015 First Place Category Winning Titles
The Chaucer Awards writing competition recognizes emerging new talent and outstanding works in the genre of  Historical Fiction. The CHAUCER Awards is a division of the Chanticleer Awards International Writing Competitions.
We are pleased to announce the 2015 CHAUCER Awards Official First Place Category Winners. Good Luck to them as they compete for the 2015 CHAUCER Grand Prize Award.
Please note that beginning in 2016, we have divided the Chaucer Awards into two separate competitions: Chaucer Awards for Pre-1750s historical fiction and the Goethe Awards for Post-1750s).
Congratulations to the 2015 Chaucer Awards First In Category Award Winning Historical Fiction Novels:
Antebellum U.S. History: Jay W. Curry – Nixon & Dovey

Women's U.S. History: Nicole Evelina – Madame Presidentess

Legacy/Legend: Edmond G. Addeo – Uzumati – A Tale of the Yosemite
Ancient History: Christian Kachel – Spoils of Olympus: By the Sword
Middle Ages: Helena Schrader – Defender of Jerusalem
Middle Ages: Glen Craney –The Spider and the Stone: A Novel of Scotland's Black Douglas
Elizabethan/Tudor – Anna Castle – Death by Disputation

Women's History: Paula Butterfield – La Luministe 

Turn of the Century: James Conroyd Martin – The Warsaw Conspiracy
Young Adult: K.S. Jones – Shadow of the Hawk
World Wars History: Nicki Chen – Tiger Tail Soup, A Novel of China at War
World/International History – Robert A. Wright – Valhalla Revealed
More than $30,000 dollars in cash and prizes are awarded to Chanticleer International Blue Ribbon Awards Winners annually.
The CHAUCER First Place  Category award winners will compete for the CHAUCER Grand Prize Award for the 2015 Historical Fiction Novel. Grand Prize winners, blue ribbons, and prizes will be announced and awarded on April 30, 2016 at the Chanticleer Authors Conference and Awards Gala, Bellingham, Wash.
The First In Category award winning titles will receive an award package including a complimentary Chanticleer Book Review of the winning title, digital award badges, shelf talkers, book stickers, and more.
We are now accepting entries into the 2017 Chaucer Awards. The deadline is June 30, 2016.  Click here for more information or to enter.
Congratulations to those who made the CHAUCER Awards 2015 FINALISTS official listing.
More than $30,000 worth of cash and prizes will be awarded to the 2015 Chanticleer Novel Writing Competition winners! Ten genres to enter your novels and compete on an international level.
Who will take home the $1,000 purse this coming April at the Chanticleer Awards Gala and Banquet?