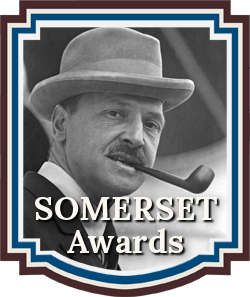 The Somerset Awards Writing Competition recognizes emerging new talent and outstanding works in the genres of  Literary and Contemporary Novels. The Somerset Awards is a division of Chanticleer International Novel Writing Competitions.
More than $30,000.00 dollars worth of cash and prizes will be awarded to Chanticleer Book Reviews 2015 writing competition winners at the Chanticleer Authors Conference April 30, 2016!
The Somerset Awards FIRST IN CATEGORY sub-genres  are:
Literary
Contemporary
Adventure/Suspense
Humor/Satire
Women's Fiction
Magic Realism
The following titles will compete for the FIRST IN CATEGORY Positions and Awards Packages.
This is the OFFICIAL FINALIST POSTING of Authors and Titles that have made it to the Short-list of the Somerset 2015 Novel Writing Contest.
Gail Cleare – Secrets We Keep
~CRK – Beyond the Further Sea
Victoria Hughes – The Cloister Door
Stanley Levers – Kuiperbelt Scrapyard
Tom And Nancy Wise – Life On Base: Quantico Cave
J.P. Kenna – Toward a Terrible Freedom
Geoff Sokol – Will the Axe Hurt
Patricia A. Williams – The Two Weddings of Zhao Ping
Laurence Klinger – Billy
Mary Avery Kabrich – Once Upon a Time a Sparrow
Karen Fitzpatrick – After the Rain
Kayce Stevens Hughlett – Blue: a novel
Patrick M. Garry – Blind Spots
Tom Glenn – The Trion Syndrome
Rick Lenz – The Alexandrite
Cat Lynn Boyle – Shadow Dance
Kenneth Stokes – Return to Villa Serena
R Schick – Little Light
Gail Cleare – Secrets We Keep
C.G. Fewston – A Time to Love in Tehran
Jen Michalski – The Tide King
James Gregory Kingston – The City Island Messenger
Rian Everest – Tangerine Tigress
Andreas Morgner – Kinyamaswa
Beth Burgmeyer – The Gathering
Judith Kirscht – Hawkins Lane
Gary Grossman – Old Earth
Caitlin Hicks – A Theory of Expanded Love
N J Cooper – Beat The Rain
Stephen Glines for Poplar Hill or Kitty Stevenson's Two Wakes
James Zerndt – Brailling For Wile
Miriam Polli – In A Vertigo of Silence
Steve Bruno – Blinded by the Light
Jacinda DeRoy – Finding Hopewood Lane
The Somerset Finalists will compete for the Somerset Awards First In Category Positions, which consists of Four Judging Rounds.  First Place Category Award winners will automatically be entered into the Somerset GRAND PRIZE AWARD competition, which has a cash prize of $200 or $500 dollars in editorial services. The CBR Grand Prize Genre Winners will compete for the CBR Overall Grand Prize for Best Book and its $1,000 purse.   

All First In Category Award Winners will receive high visibility along with special badges to wear during the Chanticleer Authors Conference and Awards Gala.
First In Category winners will compete for the Somerset Awards Grand Prize Award for the $200 purse and the Somerset Grand Prize Ribbon and badges.
TEN genre Grand Prize winning titles will compete for the $1,000 purse for CBR Best Book and Overall Grand Prize.
A coveted Chanticleer Book Review of the winning title valued at $345 dollars U.S. CBR reviews will be published in the Chanticleer Reviews magazine in chronological order as to posting.
A CBR Blue Ribbon to use in promotion at book signings and book festivals
Digital award stickers for on-line promotion
Adhesive book stickers
Shelf-talkers and other promotional items
Promotion in print and on-line media
Review of book distributed to on-line sites and printed media publications
Review, cover art, and author synopsis listed in CBR's newsletter
Default First in Category winners will not be declared. Contests are based on merit and writing craft in all of the Chanticleer Writing Competitions.

As always, please do not hesitate to contact us with any questions, concerns, or suggestions at Info@ChantiReviews.com. 

Congratulations to the Finalists in this fiercely competitive contest! 
Good Luck to all of the Somerset Finalists as they compete for the coveted First Place Category  positions.
First In Category announcements will be made in our social media postings as the results come in.
The Somerset Grand Prize Winner and the First Place Category winners will be announced and recognized at the April 30th, 2016 Chanticleer Writing Contests Annual Awards Gala, which takes place on the last evening of the Chanticleer Authors Conference that will be held in Bellingham, Wash. 
We are now accepting submissions into the 2016 CLUE Awards writing competitions for Western Fiction. Please click here for more information or to enter the contests.