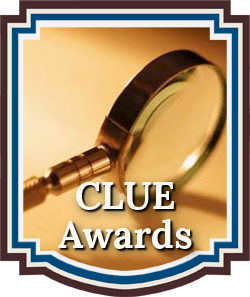 The CLUE Awards Writing Competition recognizes emerging new talent and outstanding works in the genre of  Suspense/Thriller Fiction. The CLUE Awards is a division of Chanticleer International Novel Writing Competitions.
We are pleased to announce the 2015 CLUE Awards Official First Place Category Winners. Good Luck to them as they compete for the 2015 CLUE Grand Prize Award.

Please note that Global Thrillers and Lab Lit fiction entries were moved to the newly offered Global Thrillers Awards 2016.
Congratulations to the 2015 CLUE Awards First In Category Award Winning Suspense/Thriller Fiction Novels:
Blended Genre: Timothy S. Johnston – The Tanner Sequence
Suspense/Thriller: K. J. Klemme – Tourist Trapped
Mystery/Crime: Patrick M. Garry – Blind Spots
Manuscript Mystery/Crime: Scott D. Smith – Guilty Deeds
Espionage/Spy: Michele Daniel – The Red Circle
Contemporary Suspense:  Christine Benedict – Anonymous 
Mystery:  Lonna Enox – Blood Relations
Historical/Vintage Thriller: Michael Scheffel – St. Louis Affair: The Adventures of Herbert Falken
Legal/Medical/Police Procedural: Laurie Stevens for The Mask of Midnight
Courtroom Drama: Hubert Crouch for The Word
True Crime: Zach Fortier for CurbChek Reload
International Mystery & Crime: Marian Exall – A Dangerous Descent
More than $30,000 dollars in cash and prizes are awarded to Chanticleer International Blue Ribbon Awards Winners annually.
The CLUE First Place  Category award winners will compete for the CLUE Grand Prize Award for the 2015 Suspense/Thriller Fiction Novel. Grand Prize winners, blue ribbons, and prizes will be announced and awarded on April 30, 2016 at the Chanticleer Authors Conference and Awards Gala, Bellingham, Wash.
The First In Category award winning titles will receive an award package including a complimentary Chanticleer Book Review of the winning title, digital award badges, shelf talkers, book stickers, and more.
We are now accepting entries into the 2017 CLUE Awards. The deadline is September 30, 2016.  Click here for more information or to enter.
Congratulations to those who made the CLUE Awards 2015 FIRST PLACE official listing.
More than $30,000 worth of cash and prizes will be awarded to the 2015 Chanticleer Novel Writing Competition winners! Ten genres to enter your novels and compete on an international level.
Who will take home the $1,000 purse this coming April at the Chanticleer Awards Gala and Banquet?