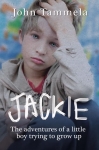 Publisher: Published by Acorn Independent Press (2013)
Buy the book now at:

Amazon
Author's Website
From the first chapter of this delightful coming-of-age memoir, it's clear that Jackie is a little boy with a big imagination. Whether he's donning a homemade crown for his mock coronation or building a snow castle to defend the neighborhood, Jackie finds magic in the simplicity of everyday life.
The author begins his story – Jackie's story – in the late 1930s in his home town of Niagara Falls, Canada. It's an era of innocence and promise. And for 6-year-old Jackie, it's the beginning of an age of life lessons and remarkable discovery. Like most children, some of the adventures and lessons in his path seem big and scary. But, be it facing a trip to the dentist, crossing a bridge for the first time or taking an aero car ride high above the Niagara whirlpool, Jackie learns that reflection, investigation and trust in the people around him can help him overcome his fears.
Jackie's new-found knowledge is not limited to how he interprets to the external world. The author also offers a glimpse into Jackie's emotional and sexual awakenings from his first crush to the touch of a girl's skin. Jackie's perceptions of his physical and emotional reactions to each encounter are completely believable for a boy of his age, providing a level of honesty that make them feel innocently real.
Jackie's story continues into the early 1940s. The simple games of hide and seek that he and his friends play take on a new dimension with "sides" and "prisoners." But the World War is always at a safe distance and, although farms are short of manpower with women filling in where they can, the reality of war does not invade or overpower the story.
In the tradition of "Stand by Me," "Jackie: the adventures of a little boy trying to grow up" transports the reader to a simpler era in which children are allowed to follow the lead of their imaginations and create their own fun.
And as we join Jackie in his adventures we gain insight by taking the lessons he learns to take to heart. Targeted at middle graders, John Tammela's memoir is an enjoyable snapshot into a young boy's life. And with a well-considered Q&A at the end it's the perfect vehicle for parent-child sharing and discussion.