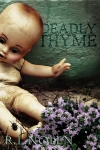 Publisher: Skipjack Publishing (2014)
Buy the book now at:

Amazon
Author's Website
A little girl is missing, but her mother is reluctant to talk to the police detectives who can help find her, leaving a twisted psychopath free to terrorize a Cornwall village with increasingly bloody deeds.
Ten-year-old Annie Butler goes seashell gathering one Sunday morning and does not return. Her mother, Ruth, is fearful of reporting Annie missing to British law enforcement because of her own dark past. The fear of the possible fate of her missing daughter overrides any of Ruth's own fears.
Once Ruth levels with the police, she enlists the sympathy of Inspector Jon Graham, who has come to Cornwall on an entirely different assignment—to find out if corruption is the reason why the local police chief has suddenly come into a large sum of money. The search for Annie moves agonizingly slowly for her mother.
The novel unfolds in stages, introducing Annie as a brave little soul and her mother as loving, but embattled. Ruth is convinced her own dark past has caught up with her. The locals include a steely-eyed police chief with a heart of gold and a bank account to match, and a plodding, plump but persistent cop who complains humorously about "Her Indoors" (his wife).
Several people emerge as suspects in the kidnapping of Annie, even the aforementioned plodding policeman on whose property (a rundown trailer) visiting Inspector Jon Graham is staying in while on his assignment.
Technology plays a vital role in the case, leading ultimately to an eerily recognizable shadow on a video. There are brief vignettes of the perpetrator, showing how deep into madness and sadism he has sunk; of Annie bravely trying to figure out how to send a secret message to her mother; and of Ruth herself, as she deals with her deepest dread.
This is Rebecca Nolen's second full-length mystery novel, and she writes dialogue like an old hand. She has mastered both the nuances of British English, including some rustic dialects, and the laid back American drawl of Ruth and her fresh-off-the-plane-from-Texas mother.
The setting, a quaint West Country village in Cornwall by the swirling sea with high cliffs aplenty for falling off, is almost a character in itself.  Offering a plethora of red herrings to confuse even the most diligent mystery buff, Nolen's engrossing complex storyline throws two budding love affairs and some exceedingly ghoulish crimes into the mix into this suspenseful whodunit.
An intriguing British mystery with a slight Texas twang, Deadly Thyme is a psychological chiller with a myriad of plot twists, layered personalities, and at its center, one unusually clever, courageous little girl that will keep readers guessing to the very end.