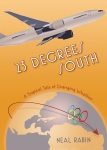 Publisher: Ponderosa Publishing (2016)
Buy the book now at:

Amazon
Author's Website
Readers meet Hart, a young American, as he begins a new job as Senior Manager for Maytag in Sao Paulo, Brazil. Chapter one finds him in his new office on a Sunday battling depression by reading the city guidebook he found on his desk, learning the city's geography and history. He came to the page with a quote that foreshadows the story's direction.
"That which you are seeking is always seeking you."
The short chapter ends with his childhood friend Simon coming into the office.
In chapter three, a seemingly innocent sharing of a childhood experience gives insight into the working of the friendship of Hart and Simon.
"On Hart's twelfth birthday Mr. Goldman made him a gift of the classic Herman Hesse book "Siddhartha." He read it then loaned it to Simon, who never gave it back. Simon always believed Hart possessed something he did not. He could never solidly identify what that mystery something was, or decide if lacking it made him jealous, disheartened, or relieved."
For those familiar with this classic book an entirely deeper significance surfaces that adds incredible thought- provoking depth to this fast-reading, upbeat story.
Hesse wrote in German in 1922 about the spiritual journey of self-discovery. First published in the United States in 1951, this novel about Siddhartha and his best friend Govinda gained popularity in the sixties. In it, one seeks truth on his own with the other friend following,
23 Degrees South will capture all readers with its story of two young friends on different paths who intersect within an action packed story, complete with some hilarious scenes.
Those readers familiar with Siddhartha, however, will discover even more. While enjoying the more modern plot, they will find symbolism and depth in the reading of this story. Who influences us in our search for self? Does our life have meaning, or does it not make a difference? What obligations do we have to others? What obligations do we have to ourselves? What is the truth of who we really are, and of our purpose in life?
The author's characterization is exceptional, with an unusual mix of people with Hart's beautiful assistant, criminals, a Jesuit priest, and a former Nazi to move along the action. Carmen, Carlos, Lazarus, Gil, and all the other characters come alive in the writing.
Sub-plots add to the main story, giving background and adding to the substance of the main characters. The realistic dialogue keeps readers involved, and the humor throughout makes the story a fun adventurous read while giving the reader pause to reflect on his or her search for the meaning of life. An exemplary read for today's hectic pace of living—highly recommended.