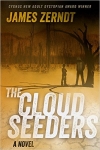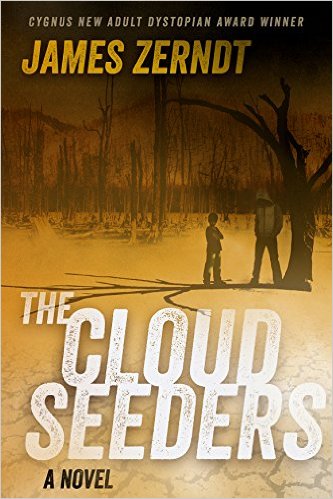 Publisher: Amazon Digital Services LLC (January 12, 2014)
Buy the book now at:

Amazon
Author's Website
Environmental dangers, such as recent droughts on the West Coast, motivate many writers to explore futures where significant resources are scarce. Imagine a world where water is a rare, precious gem that people are trying to snatch up. James Zerndt builds a dystopian future in his novel The Cloud Seeders where the lack of water, and more importantly rain, has resulted in a dictatorial regime with water police, severe punishments, and near total control.
Enter Thomas, his little brother Dustin, and Thomas' girlfriend Jerusha.
Zerndt is an expert on point-of-view and he crafts memorable  characters who have unique assets and flaws. The juxtaposed positions of Thomas being a young enforcer for the water police  and Jerusha being a member of a secret society that resists the regime offers a fascinating view of young love and its willingness to put up with opposing worldviews. Dustin's surprising  capabilities  further round out a strong set of diverse characters. Zerndt's three-dimensional characters remind the reader that none of us are all good or all bad – we have faults and strengths that set the foundation for who we are and who we will become.
A prose professional, Zerndt's pages are filled with dynamic characters and scene building craft that grips the reader from the beginning to the end. The poems between chapters, written by the two brothers' deceased mother, are carefully crafted and also capture the reader's attention.
The adventure the three characters go on is fraught with realistic and compelling subplots that pull you along and make you want to keep reading late into the night. The scenery has a fresh perspective that puts the reader into Orwellian territory as the devastation  to the country is revealed through the storyline.
Even though this novel, which crosses the genres of science fiction, new adult, romance, and dystopian, presents a coming-of-age story, I would recommend it to either young adults with parental guidance (PG) or the 18-year-old and over audience because the coarse language, sexual content, and violence–while not gratuitous–still permeates this riveting story.  
Readers will be enthralled by the novel's climax, which is both clever and believable. The ending  begs the question of what's next.
The Cloud Seeders is a gripping dystopian-future novel that leaves us questioning just how far are we from a future of environmental chaos, and how blurred the line can be between fiction and reality.