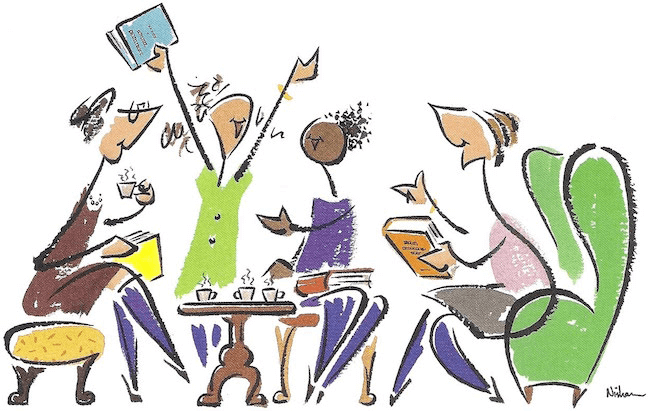 Pulpwood Queens Book Club's Founder, Kathy Murphy, tells all! 
Meet Kathy Murphy, the "Pulpwood Queen" who opened the only Hair Salon/Bookstore, Beauty and the Book in the country in Jefferson, Texas and in 2000, founded and now operates the 600+ chapter book club, The Pulpwood Queens, nationally and in 15 foreign countries. Have a question for the Queen? Bring it to the Chanticleer conference session!
What was your motivation to launch the Pulpwood Queens?
Shortly after opening my Hair Salon/Book Store, (Beauty and the Book), the local book club invited me to join them for a meeting. I thought they invited me to join and be a MEMBER, not!
Evidently, only eight members were allowed to join and as the hostess told me, "Unless someone dies or moves away, that is all that will fit around our table."
I was secretly thinking, Who made up that RULE?! Anyway, I went home, sat down, and made a list on what I would do if I started my own book club.  This book club would be inclusive, not exclusive.  We would call ourselves The Pulpwood Queens, "where TIARAS are mandatory and reading OUR good books was the only Rule!"
By wearing the crown, we would tell the world that we were "beauty within" queens as we were real readers.  So for nearly 16 years we have been meeting monthly, first with my charter chapter, The Pulpwood Queens of East Texas.
Since then we have made the news with appearances on The Oprah Winfrey Show, Good Morning America, we kicked off their "READ THIS" Book Club and other radio and print media with now over 600 chapters nationwide and in 15 foreign countries.
What will readers get out of being a member of a chapter and where/how can they hook up with an existing Pulpwood Queens or Timber Guys chapter?
Everything pertaining to membership is on our website, www.beautyandthebook.com but the difference our book club has over others is we bring the authors into the picture.  Most of our authors will teleconference, SKYPE or even visit chapters and for sure be featured at our annual Pulpwood Queen Girlfriend Weekend. I know of no other book club where you have this kind of access to the authors.
I also make all the authors participate in ALL EVENTS at our Girlfriend Weekend.  So it's no secret that Pat Conroy has served Sweet Tea at our Author Dinner, where I make all the authors wait the tables in crazy costumes.  You eat, drink, and the authors even stay in the same hotels and bed and breakfasts.
It's full immersion into the Wonderful World of the Pulpwood Queens with the Grand Finale being our Great Big Ball of Hair Ball. The theme this year is ONCE UPON A TIME.  All the authors dress up, too, and it's the ultimate Kodak moment, so bring your cameras BIG TIME!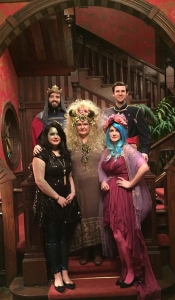 Ed. Note: To become a member, visit: www.beautyandthebook.com/membership
What is Kathy Murphy looking for in a good book? What speaks to you as a reader?
Since my book club is now international, here is what I am looking for:
An unknown author, one that is perhaps a first time/first book or one that hasn't been discovered in a really big way. Yes, I want to pick a big name once in while but only if they can come and be a Keynote at my annual convention which we call Girlfriend Weekend. Example, Pat Conroy, Fannie Flagg, John Berendt, Jamie Ford, etc.
This is a given but it must be well written, free of flaws and my book club members do not like to read books with gratuitous violence or language, but I do make exceptions. I selected Girl with the Dragon Tattoo because it was just such a great, well written story.
Most important of all, the book must tell a story that has NOT been heard before or from a perspective that gives the reader a different view of a subject. Examples: The Sunday Wife by Cassandra King, The Dive From Claussen's Pier by Ann Packer, Empty Mansions by Bill Dedman. Do not send me another queen book set in the south, particularly one that is also a hairdresser. I hold that card, DONE.
I want a book that changes people's lives for the better. Examples: My Orange Duffel Bag, Same Kind of Different As Me, a book that is discuss-able and that includes book club discussion questions written by the author. My book club hates generated book discussion questions, too literary and not very personal. Authors tend to write questions that they answered.
I really don't care who publishes a book, a good book is a good read no matter who publishes it.
Last, I want a real book to read, I'm on the computer so much, I want to cuddle with a book in bed!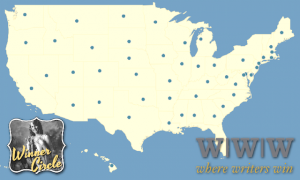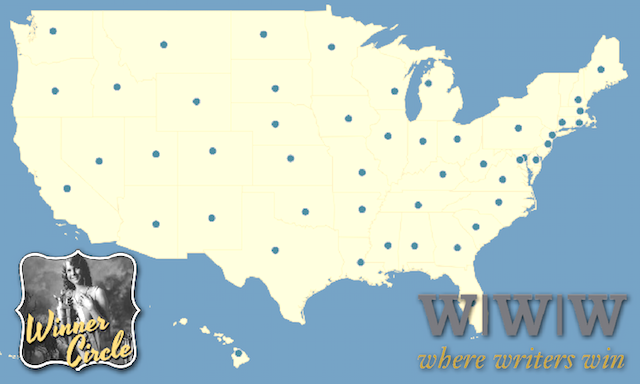 Thank you Shari Stauch, CEO of Where Writers Win, for this informative interview with Kathy L. Murphy, the Pulpwood Queen!
Shari will present several sessions sharing her book marketing expertise at CAC16 along with Friday evening's keynote presentation.
Tell Us About the Live Book Clubs YOU Know!
The WWW team and the Chanticleer Reviews team are reaching out regularly to bloggers, Twitter-ers, indie bookstores, readers at book festivals and more, once every few months we circle back to the coolest source –YOU– to ferret out the latest book clubs in cities around the world. Because, the club you know about might also be of value to one of our other emerging authors – and their club may be of value to you!
Contact:  BookClubs@ChantiReviews.com and/or contact Where Writers Win.
Editor's Note about Kathy L. Murphy:
DreamWorks signed on to produce a movie about Kathy, though as she says, "I did not do this alone and am not an overnight sensation," Murphy said. "This came about through years of struggle and hard work and the incredible friendship and help of my Pulpwood Queens Book Club members and our authors and the love of my daughters, my sister and family. We — note that I say WE — have struck a film deal."
The latest update regarding the film as of April 2016 is that the screenplay has been written and approved. Dreamworks has sent the script "out to talent," so stay tuned to see who will play Kathy L. Murphy.  
We can hardly wait to see it!