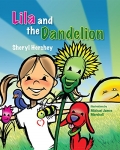 Publisher: Mascot Books (January 6, 2015)
Buy the book now at:

Amazon
Author's Website
Chock full of brightly colored illustrations and positive messages, Lila and the Dandelion is a captivating story for young children about making friends and how we don't have to be perfect to be a good friend or to be happy.
Lila is a cheerful young girl who "listens with her heart and speaks with hands" – Lila is deaf. However, even though she can't hear, one day while she was "listening" to the flowers sing, she senses that she hears a little flower crying. She walks up to a Dandelion flower and signs with her hands to the crying flower, "Why are you crying, little flower?"
The flower cries because the gardener called the Dandelion a "weed." This made the Dandelion feel useless and lonely.  But, Lila shares with her new friend that just because someone says you don't belong or calls you bad names doesn't mean it's true.
Lila's character is an optimistic role model for children. Her deafness doesn't hold her back from experiencing life in her own way, and it doesn't stop her from having a smile her face. She inspires the Dandelion to feel appreciated  despite the hurtful words of the gardener. This children's book teaches its young readers the powerful message of loving yourself no matter what anyone says, and how it is empowering to take that strength and use it to help others in a gentle manner.
The story also encompasses how we can help make the world a better place by being kind and thoughtful of others. Lila shows young readers that everyone can be beautiful when they are compassionate and accepting of everyone. Lila and the Dandelion is an excellent book for parents to read to their children, and it comes with questions at the end of the book to start a conversation about the concepts self-worth and seeing worthiness in others.  
Filled with warm, sweet characters and an optimistic outlook, Sheryl Hershey's children's book Lila and the Dandelion helps children explore the important message of self-acceptance along with acceptance of others–even if they are different.