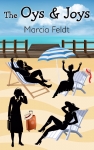 Publisher: Lady Lake Publishing (2016)
Buy the book now at:

Amazon
Author's Website
True friendship, like the one these four women share, is one of the greatest gifts one can experience in life. Sure, the honesty can hurt, and situations can get messy, but the unconditional love, so obvious in the telling, make for a binding sisterhood that transcends DNA and cannot be broken apart.
The author uses a first person point of view for each of the women, alternating chapter titles with the name of the friend doing the sharing. While using this format can be a risk, the author executes it exceptionally. Readers will feel they are right there with each one, hearing what they have to say, and feeling the emotions they are experiencing.
Before the story begins, the author lists three definitions to prepare readers with references to oy, the word for woe from the Yiddish; bubble bath basket list, so much more feminine than bucket list; and wedgie generation, the part of middle age caught between the past and the future, now closer to the end than the beginning.
In chapter one, readers meet Lizzie:
"On my sixty-third birthday, my husband packed his bags, golf clubs, leather recliner and fifty-inch man-cave TV into our pontoon boat. And used it as a moving van."
As Sassy, Grace, and Ruby arrive at her house to celebrate her birthday, Lizzie gives readers her view of the three others in their cozy group that has been going strong for six years. Their conversations go in many directions, with readers there to begin picking up clues as to their pasts as well as their futures.
Chapter two presents Sassie:
"Before the ink dried on our college diplomas, Louie and I packed his old Chevy with our belongings. …I made the decision to return to Texas decades later with Louie in an urn."
Sassie shares her move from New York back to Woodhaven, Texas with us, and she then lets us in about her closeness to Lizzie. To both honor her late husband, as well as to fulfill her own dream, Sassie has opened a modeling and dance studio called Loop de Lou.
In chapter three, Grace shares:
"Ever since my lumpectomy and radiation treatments eight years ago for breast cancer, I've smiled at my oncologist. Because clean mammograms rock…until this year. …And the weekend did not improve….Joy started acting weird….She moseyed in with the rear end of her expanded dachshund back wobbling to and fro … Ohmygosh. Did Joy get into some of Rusty's stash? … I dreamed of shooting Enron's Ken Lay for stealing Rusty's career, his self-confidence, and our retirement savings."
A job offer from Sassie causes conflict for Grace as she worries if her cancer has returned. Reduced to tears on the phone, Grace is unable to explain to Sassie, who promptly comes over to her house, to talk to her in person.
Chapter 4 introduces readers to Ruby:
"When I listened to the receptionist at Weinstein, Porter, and Spencer beg me to cover for her while she ran to Walgreens for an Oh-my-God-I-might-be-pregnant test, I almost refused. I had closing arguments to outline for a senior partner, with a deadline zooming around the corner faster than the last lap of the Indy 500."
Ruby relented, which is why she was at the reception desk when Sassie entered the law firm with her outdated will, and the connection began.
By the end of chapter four, readers will feel completely initiated into the group, ready to learn more of the secrets, sorrows, and joys this novel delivers until its satisfying conclusion. The four women are in different situations. Secrets are revealed, hopes and dreams are shared, close calls are divulged, and fears braved.
This foursome: one is divorced, another widowed, one is in an abusive marriage, and the fourth single have been long-time friends through thick and thin. Their personalities differ greatly, too, but the mix of all of them together is electrifying as they all find shelter under a common umbrella of their friendship that helps them be there for each other though bad and good times – "the oys & the joys."
The story of the four friends is vibrantly told with authenticity and poignancy that will resonate with many. Feldt's sense of humor makes the adventure of The Oys & Joys entertaining, while her heartfelt anecdotes are captivating and will remain memorable long after the last page has been read. If you liked The Divine Secrets of the YaYa Sisterhood by Rebecca Wells, you will enjoy reading The Oys & Joys, by Marcia Feldt.