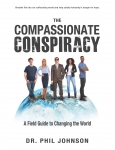 Publisher: Promontory Press (May 3, 2016)
With all of the texting, tweeting, and tapping we do on our smartphones, it's easy to get distracted from life's true meaning. Thankfully, to help us find our way, Dr. Phil Johnson has published, The Compassionate Conspiracy: A Field Guide to Changing the World – an inspirational guide to a purposeful existence.
A lovely mix of his personal stories, along with well-known song lyrics, quotes, and research on world poverty and hunger, the book helps us answer the age-old question: "Why am I here?" Dr. Johnson also includes writing exercises and quizzes for reflection.
The impetus for the book came from childhood. With a "calm wisdom" and realist world view, Dr. Johnson's mother, who coordinated a food pantry for families in need, would spin a globe and pose, "Philip, where shall we go today?" As he took "voyages" around the world to places like Bolivia, Brazil, and Greenland, Philip soon realized he was most fascinated by Africa. Eventually in 2005, he traveled with his wife to Kenya where he contracted malaria and typhoid fever. Fortunately, he was quickly cured, but witnessing thousands of Africans suffering from famine and illness, he asked: "What can I do to make a difference?"
The Compassionate Conspiracy is his answer to helping us all discover our passions and develop a personal plan to help those less fortunate. Dr. Johnson crafted this practical guide to connect the world. Did you know that the Latin origin of "conspiracy" is conspirare, which means "to breathe together." He wanted to write a book so people could help others by "learning to breathe together for the common good, to breathe life into a suffocating world."
In the Conclusion, he states: "My singular purpose in writing The Compassionate Conspiracy is to spark a movement to achieve that compelling vision. At the beginning of the twenty-first century, I believe we have the wealth, the wisdom, and the will to breathe hope into the global family."
With more than 40 years working with corporations like Ford and IBM and with nonprofits like the United Way and the Juvenile Diabetes Research Foundation, Dr. Johnson is no stranger to helping people around the world. On top of that, he is an ordained minister and practicing pastor at the New Day Community Church in Grand Rapids, Michigan. Dr. Johnson participated in major international events, including the United Nations World Peace Conference in Israel in 1999.
You will see the book is organized into four parts: 1) Our World is in Critical Condition, 2) The Compassionate Conspiracy, 3) the Compassionate Conspirators, 4)  and A Guide to Becoming a Compassionate Conspirator.
The foreword, aptly written by Dr. Nido Qubein, a motivational speaker, author, and chairman of the Great Harvest Bread Co., starts us off:
"Remember, life is about choices. Decide here and now that you want to make the world a better place, and build a plan that will take you there!"
Qubein is also President of High Point University in North Carolina. It would be difficult to put the book down at this point.
As the author of six previous books, Dr. Johnson is familiar with writing and publishing,  so be sure to get The Compassionate Conspiracy on your bookshelf too.
Dr. Johnson's other titles include: Time-Out! Restoring Your Passion for Life, Love and Work (Stoddart, 1992); Celebrating the Seasons with Children (Pilgrim Press, 1984); More Celebrating the Seasons with Children (Pilgrim Press, 1985); And More Celebrating the Seasons with Children (Pilgrim Press, 1986); Goodbye Mom, Goodbye (Welch Publishing, 1987); and The Great Canadian Alphabet Book (Hounslow Press, 1981).